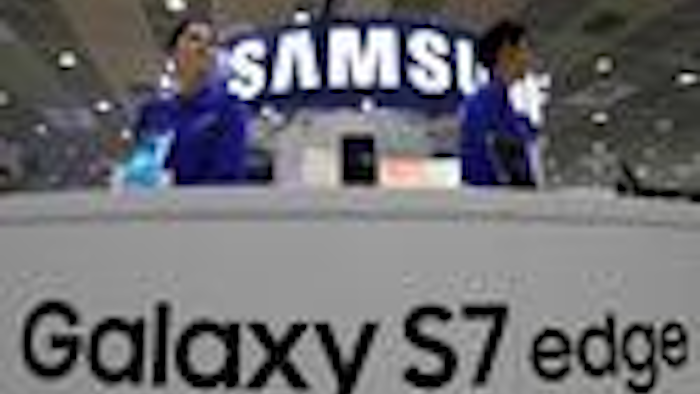 SEOUL, South Korea (AP) — Samsung Electronics reported a sharp fall in its quarterly earnings Thursday as the unprecedented recall and discontinuation of the Galaxy Note 7 smartphones wiped out its mobile profit.
For the July-September period, Samsung's net income was 4.4 trillion won ($3.9 billion), down 17 percent from 5.3 trillion won a year earlier.
The company's profit from its mainstay mobile business showed a dramatic decline due to the Note 7 recall.
Samsung issued the world's largest smartphone recall in September after the flagship smartphones caught fire or overheated. But it was forced to recall the smartphone again earlier this month before discontinuing the model altogether after its replacement phones that were supposed to be a fix for the fire-prone phone also combusted or emitted smoke. The Galaxy Note 7, initially launched as Samsung's weapon to kill the iPhone, was scrapped in less than two months.
Samsung's troubled mobile business generated just 100 billion won ($87.9 million) in operating income during the quarter, compared with 2.4 trillion won one year earlier. Samsung's mobile business usually contributes more than half of its overall income. It is the world's largest smartphone maker.
Sales fell 7 percent to 47.8 trillion won ($42 billion), while operating income slumped 30 percent to 5.2 trillion won ($4.6 billion), in line with the company's guidance earlier this month.
While mobile profit shrank dramatically, Samsung recorded solid earnings from its component businesses, especially its high-density chips for computers and next-generation smartphone displays called OLEDs, which have been increasingly popular among global smartphone makers. Together, its component businesses generated more than 80 percent of the quarterly income in the latest quarter, helping Samsung weather the cost of the handset recall.
Analysts expect that those high-end components will be Samsung's growth engine next year as more premium smartphone makers are expected to adopt Samsung's OLEDs due to its flexible design while Samsung's advanced chips will help the company save costs and charge higher prices.
The South Korean tech giant said its annual investment this year will be at a record high as it seeks to expand production of those two lucrative components for computers and smartphones. Samsung said it will spend 27 trillion won ($23.7 billion) this year to increase production of OLEDs and an advanced chip that are expected to see huge demand growth.
Looking ahead, Samsung hinted that the worst may be over for its mobile division, saying that its fourth-quarter mobile profit will likely recover to the similar level as that of the last year. The company estimated that the Note 7 discontinuation will cost in the mid-2 trillion won range during the October-December period and another 1 trillion won ($884 million) during the January-March quarter, bringing the total cost of the recall to at least $5.3 billion.
In the absence of the latest high-end gadget to fight Apple's new iPhone, Samsung said it will introduce new mid- to low-end handset models while selling the Galaxy S7 and S7 Edge smartphones, which were launched in spring.
The South Korean company, the world's top maker of memory chips and television sets, is seeking shareholders' approval to appoint Lee Jae-yong, the only son of its ailing chairman, as a board member. The move is seen as a step to formally inaugurate Lee as Samsung's new leader.