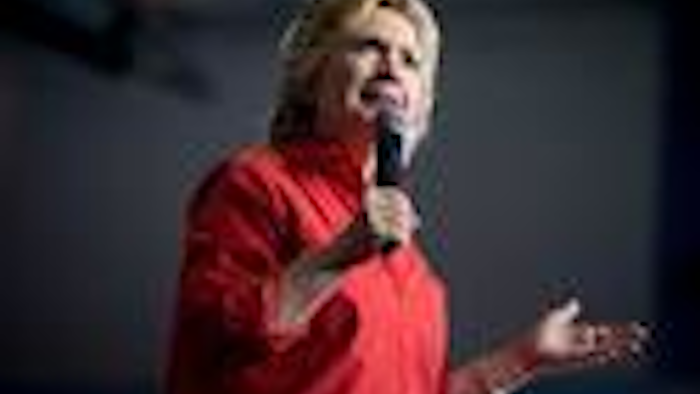 WASHINGTON (AP) — The political conventions were laced with tales of foreign espionage and intrigue. Now, it's time for the official spy work of the presidential campaign to begin.
As early as this week, Donald Trump and Hillary Clinton will start getting top-secret intelligence briefings from the national intelligence director's office. This year, though, the more than 60-year-old tradition of providing presidential candidates classified briefings has prompted vicious backbiting between Democrats and Republicans about whether each other's candidate can keep a secret.
Clinton supporters and some intelligence officials say the New York business magnate has loose lips and often shoots from the hip.
Trump backers point to Clinton's use of a private email server and FBI Director James Comey's rebuke of her "extremely careless" handling of classified information while she was secretary of state. Trump tweeted: "Hillary Clinton should not be given national security briefings in that she is a lose (loose) cannon with extraordinarily bad judgement (judgment) & insticts (instincts)."
In a letter to National Intelligence Director James Clapper, House Speaker Paul Ryan, R-Wis., said many questions remain about how Clinton handled her email and requested that she not get classified briefings for the rest of the campaign. Clapper rejected the request, saying, "I do not intend to withhold briefings from any officially nominated, eligible candidate."
As secretary of State, Clinton held a high security clearance and received a copy of the President's Daily Brief — the highest-level U.S. intelligence document, filled with sensitive intelligence and analysis from across the world. Trump, as a career businessman, has never held a government security clearance and is a novice when it comes to intelligence briefings.
The term top secret intelligence is thrown around a lot, but there is grave danger to U.S. national security if some of this information is disclosed, said David Priess, author of "The President's Book of Secrets," a history of the President's Daily Brief.
"It could pertain to the ways of defending the United States that our adversaries don't know," he said. "Or it could pertain to what we know about foreign countries that they don't know we know. So any time that there is someone who is not familiar with this, there is some anxiety."
Senate Minority Leader Harry Reid, D-Nev., argued that Trump should not be trusted because he talks recklessly about world issues. Reid suggested that intelligence officials "fake it" — pretend they are briefing Trump, but don't really tell him anything classified.
Trump is far less well-versed in world affairs than Clinton. He has suggested that the U.S. abandon its NATO treaty commitments to allies who haven't kept up with their payments, and has expressed his admiration for Russian President Vladimir Putin. Trump has also said he would consider as president recognizing Russia's annexation of the Ukrainian province of Crimea. And he said that Putin is "not gonna go into Ukraine," even though Russian troops have been photographed in eastern Ukraine.
Clapper insists the intelligence community feels no hesitation about briefing either candidate. He says a briefing team is ready to begin and that both candidates will be provided the same information.
"This is a long-standing tradition that goes back to Harry Truman," Clapper said. "There is a long tradition that the intel community at the appropriate time — and now is the appropriate time since both candidates have been anointed — that that both camps will be ... offered briefings, and then it will be up to them to decide whether to accept them."
At the Aspen Security Forum last week in Colorado, Clapper said the briefings will be fairly general, but classified nonetheless. While details of the topics cannot be publicly disclosed, Clapper said the top three issues headlining the briefings would likely be Islamic extremism, Russia and cyberattacks by state and nonstate actors and the threat they pose to the United States. Once a candidate is elected president, he or she will get more detailed briefings and information on U.S. covert operations
The briefings begin as the FBI is investigating a hack of the Democratic National Committee computer that resulted in a WikiLeaks posting of embarrassing internal communications on the eve of the Democratic convention. President Barack Obama and cybersecurity experts have said Russia was almost certainly responsible.