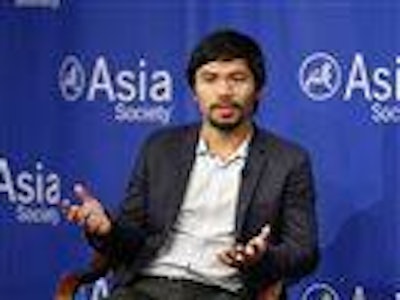 MANILA, Philippines (AP) — Manny Pacquiao says he respects Nike's decision to sever ties with him over his comments about gay relationships but stood pat on his opposition to same-sex marriage and added he's happy that "a lot of people were alarmed by the truth."
The apparel giant said Wednesday that it will no longer have any business dealings with the Filipino boxing star, adding that it found his comments "abhorrent." Nike says it strongly opposes any discrimination and has a history of standing up for LGBT rights.
Pacquiao says his main contract with Nike, Inc. has ended and it's now only sponsoring his clothes during bouts.
Pacquiao drew an outcry after saying people in gay relationships are "worse than animals." He has apologized for hurting people's feelings.