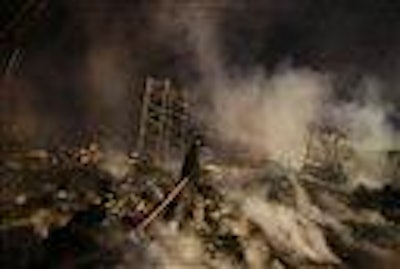 NEW DELHI (AP) — A massive fire broke out an event in Mumbai meant to showcase India as an attractive destination for billions of dollars of foreign investment.
There were no casualties from Sunday night's fire, and the weeklong "Make in India" event was not canceled. Still, the incident is being viewed as an embarrassment for the government because the event is among Indian Prime Minister Narendra Modi's most ambitious economic initiatives and aims at making the country a manufacturing hub on par with neighboring China.
Video showed the fire blazing at the base of the elaborate stage as dancers performed at a cultural extravaganza to celebrate the event. The fire later spread as the scaffolding caught fire and flames could be seen rising into the sky.
It was not immediately clear what caused the fire and the government has ordered an investigation.
Top government officials and Bollywood stars were evacuated soon after the fire broke out. Modi inaugurated the event on Saturday, but was not there on Sunday.
Leading actor Amitabh Bachchan tweeted Sunday that he had ended his own performance and left the venue shortly before the fire started.
In India, safety norms are routinely flouted. When big, public events are organized, it's not unusual to find dangerously low-hanging electricity cables or just a single fire engine and an ambulance on stand-by.