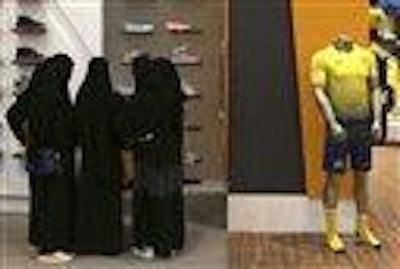 RIYADH, Saudi Arabia (AP) — Saudi Arabia is racing to attract more investment and overhaul its economy as low oil prices expose it to urgent domestic challenges.
For months, Saudi Arabia's Deputy Crown Prince Mohammed bin Salman has been working with teams of international consultants, regulators, advisers and government agencies to launch a "National Transformation Program," or NTP, to help the kingdom better withstand plunging revenues.
When King Salman ascended to the throne a year ago, he thrust his 30-year-old son to the forefront of Saudi decision-making, not only as second-in-line to the throne, but also as defense minister and head of a newly-formed committee to oversee economic policy-making.
The Council on Economic and Development Affairs is still working on the NTP and only vague outlines have been released. Among its key priorities is job creation and increasing foreign investment in sectors such as transportation, health care and mining, where potentially tens of billions of dollars can be tapped.
"All the consulting houses are here in Saudi Arabia. The who's who of Saudis are working on it," Deputy Governor of the Saudi Arabian General Investment Authority (SAGIA), Prince Saud al-Faisal, told The Associated Press. He said there will be more privatization of public services, with the government hoping to outsource "as much as possible."
In sign of the possible changes to come, the deputy crown prince told The Economist magazine this month that the kingdom is studying publicly listing state-owned oil giant Saudi Aramco. The company has said any potential listing would not include its oil reserves.
SAGIA wrapped up an annual investment conference in Riyadh on Tuesday as Brent crude traded at just over $31 a barrel in London, down from $115 in mid-2014.
With two thirds of Saudi citizens under the age of 35, participants said there is an opportunity to diversify the economy away from oil and into other sectors like housing, consumer goods and services. Though the kingdom has been working on similar plans for years, oil still accounted for 72 percent of total revenue last year.
Saudi Arabia projects a budget deficit of $87 billion this year.
"The historic model will not work for the future," said Tareq Elmasry, managing director for the Middle East for McKinsey and Company. He said that while household income in Saudi Arabia has increased by 70 percent in the past decade, 70 percent of Saudis work in the public sector.
"That's not a sustainable number," he told the conference.
The Saudi investment conference, which attracted the CEOs of PepsiCo and Lockheed Martin, coincides with its regional rival Iran courting European businesses in Italy and France this week after nuclear-related sanctions were lifted.
The economic and regional challenges pose both an immense political risk and opportunity for Prince Mohammed bin Salman, who as head of the kingdom's economic policy committee is tasked with job creation.
The average age of Saudi citizens is about 21 years old and millions are entering the workforce in the coming years. Young people's frustration at their lack of prospects was a key driver of the Arab Spring uprisings that rocked the Middle East in 2011.
McKinsey and Company released a report in December saying Saudi Arabia could double its economy and create as many as 6 million jobs by 2030, but "it will require the kingdom to embrace significant change to its economic growth model."
Despite the challenges, SAGIA's Prince Saud al-Faisal said it's very easy for people to forget how quickly the country has already developed.
"We were living a rural lifestyle and in order to reach where we reached today you would have to be traveling at a very, very fast pace," he said.
___
Follow Aya Batrawy on Twitter at www.twitter.com/ayaelb