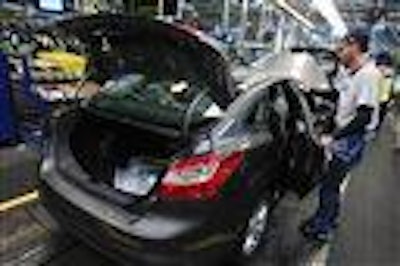 DETROIT (AP) — U.S. auto safety regulators have opened an investigation into complaints that doors won't latch properly on about 400,000 Ford Focus compact cars, including some reports that the doors have opened while the cars are moving.
The probe by the National Highway Traffic Safety Administration covers Focuses from the 2012 and 2013 model years, according to documents posted Wednesday on the agency's website. It's similar to an investigation that caused a recall last year of more than 456,000 Lincoln MKZ and Ford Fusion and Fiesta models.
In the documents, the agency says 73 drivers have reported problems with latches. In one case, a driver reported an injury when a door rebounded after an attempt to close it. Others said the doors had to be tied down to keep them shut, and others stopped driving their Focuses for fear that the doors might open while they're moving.
Late last year, a Ford Focus driver from San Antonio reported to NHTSA that the driver's side door latch suddenly failed and the door flew open. "This is an extreme safety hazard, and it is just a matter of time until someone falls out of a moving vehicle and is killed or injured," the person wrote. The driver reported calling Ford and being told that it is aware of a large number of failures but would not do a recall. People who complain to NHTSA are not identified by the agency.
The Focus latches are a similar design to those on the recalled cars, but they were made by a different parts supply company, Ford spokesman John Cangany said in an email. "We are working with the agency to understand how these differences may affect the latches," he said.
NHTSA investigators will check how often the problem happens and could seek a recall.
Ford Motor Co. shares slipped 7 cents to $11.88 in morning trading Wednesday as broad stock market indicators lost more ground.