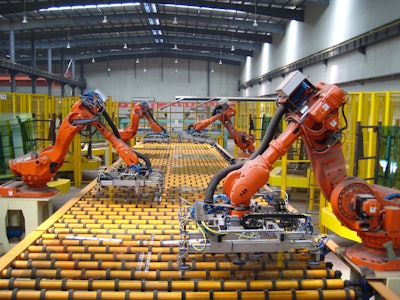 Included in IMPO's top five news stories: a train manufacturer blames faulty welds for out-of-commission rail cars and a fire burn part of a Ford plant in Michigan. 
Take a look at last week's top stories:
Maker Of Philadelphia Rail Cars Blames Cracks On Flawed Weld: A train manufacturer says faulty welds are at the root of the problem that has put has put more than 100 regional rail cars out of service at Philadelphia's main transit agency. Development manager Andrew Hyer at Hyundai Rotem says the welding was done by one of its subcontractors, HiCorp. Officials at the Southeastern Pennsylvania Transportation Authority told The Philadelphia Inquirer that they are still reviewing tests and can't yet say what they believe caused cracks in the suspension system of its Silverliner V cars.
MM: Cutting Travel Time With An Underwater Traffic Tube: In this episode, robots and humans work together in a Ford factory and a $25 billion infrastructure project to build a floating underwater bridge. Watch to learn more.
Fire Burns Part Of Ford Plant In Southeastern Michigan​: A fire burned part of a Ford Motor Co. plant in southeastern Michigan, prompting an evacuation of part of the facility. No injuries were reported after the Tuesday evening fire at the Flat Rock Assembly Plant, which makes the Mustang.
Report: Automation Could Replace Most Manufacturing Activities: A newly released report suggests that manufacturing is among the industries that are most vulnerable to automation over the next decade. Consulting firm McKinsey & Co. said that nearly 60 percent of all manufacturing activities could be performed by automated machines with currently available technology, according to The Wall Street Journal. Numerous manufacturing jobs -- including welding, cutting and soldering -- could see up to 90 percent of their tasks performed by machines.
Daimler To Provide Spare Truck Parts Using 3D Printing: The world's largest cargo truck manufacturer hopes to speed up repairs by offering spare parts via 3D printers. Daimler announced that 3D-printed versions of 30 plastic spare parts for its Mercedes-Benz trucks would become available beginning in September, along with plans to continuously add new parts to the list. The German automaker said that 3D printing those parts will be faster than conventional parts manufacturing -- which led to years-long backlogs -- as well as more environmentally friendly.