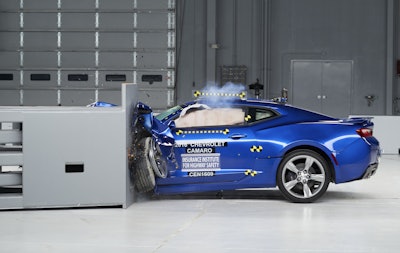 Included in IMPO's top five news stories: Arkansas' highest court upholds a $3 million judgement against Gerber Products Co. and a look at a brewery that uses wastewater to make beer.
Take a look at last week's top stories:
Detroit Muscle Cars Aren't So Strong In Crash Tests: Muscle cars may look cool, but they don't offer the best protection in a crash. The Ford Mustang, Chevrolet Camaro and Dodge Challenger didn't get the highest ratings in new tests by the Insurance Institute for Highway Safety. The institute, which is funded by insurers, tested 2016 models.
Authorities Say 2 Injured In Arkansas Plant Explosion: Authorities say two people have been injured in an explosion and fire at a defense technology manufacturing plant in southern Arkansas. Ron Nash, assistant chief of the Camden fire department, says a report of a possible explosion at Esterline Defense Technologies came in just before 7 p.m. on May 23. He says two people were hurt. It wasn't immediately clear if they were employees, and Nash didn't know the extent of their injuries.
2 Spanish Factory Workers Die After Inhaling Toxic Fumes: An official says two workers in southern Spain have died after inhaling toxic fumes after falling into a tank at an animal feed factory. A spokesman for Andalusia's regional emergency service said one worker fell into the tank after the ladder he was on broke. A second worker then fell in while trying to rescue him. He said both men were dead when fellow workers finally pulled them out. One other worker was treated for inhaling the fumes.
Court Upholds $3M Judgment Against Gerber Products Co.: Arkansas' highest court says a baby food manufacturer must pay more than $3 million to workers for the time they spent dressing and undressing into uniforms and protective gear. The state Supreme Court on Thursday upheld a lower court's ruling that Gerber Products Co. should have compensated workers at its Fort Smith facility for the time they spent changing into uniforms, donning protective gear such as ear plugs and washing their hands, as well as undressing after their shifts ended.
You Can Help Save the Planet by Drinking Beer... Wastewater Beer: There are more breweries in California than anywhere else in the nation. That's great for beer, but not so great for another cherished liquid in the Golden State: water. Each pint of beer needs five pints of water to be produced. Lenny Mendonca, owner of the Half Moon Bay Brewing Company, thinks he has a solution. He's been experimenting with using recycled wastewater to make beer. Bloomberg Businessweek's Sam Grobart went to taste wastewater beer in this episode of The Spark series.