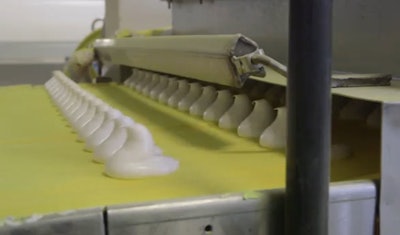 Included in IMPO's top five news stories: two workers are fatally crushed by two tons of steel bars and a food company is facing an $80,000 fine for a worker's fall in a vat.
Take a look at last week's top stories:
2 Workers Fatally Crushed By Steel At Suzuki Motor Subsidiary Plant: Two workers died Tuesday after being struck by about 2 tons of steel bars at a factory operated by a Suzuki Motor Corp. subsidiary in the northeastern Japanese prefecture of Akita, police said. Masaki Kyoya, 59, and Yutaka Ota, 53, were hit by a bundle of 20 steel bars, 5 centimeters in diameter and 8 meters in length, when Ota was trying to haul the materials out of a truck with a winch at around 8:40 a.m., according to the police. They were pronounced dead at a hospital.
Making Peeps In The Just Born Factory: Take a peek inside the Just Born factory in Bethlehem, Pa. where 5 million Peeps are made each day — and the whole process takes just six minutes from beginning to end. (Via McKenna Ewen, The Washington Post)
Affordable Model 3 Is Tesla's Biggest Test Yet: Tesla unveiled its Model 3 electric car Thursday night at its Los Angeles design studio. At a starting price of $35,000 — before federal and state government incentives — the Model 3 is less than half the cost of Tesla's previous models. The car is expected to have a range of at least 200 miles when fully charged, about double what drivers get from competitors in its price range, such as the Nissan Leaf and BMW i3.The Model 3 is the most serious test yet of 13-year-old Tesla's ability to go from a niche player to a full-fledged automaker. It could be the car that finally makes electrics mainstream — or customers could be scared off by Tesla's limited number of stores and service centers.
Inside An MLB Bat Factory: With the help of the Original Maple Bat Corporation of Carleton Place, Ont., The Toronto Star followed the making of Miguel Cabrera's bat from the factory to the field.
NY Food Company Faces $80K Fine For Worker's Fall Inside Vat: An upstate New York food company faces nearly $80,000 in fines after a worker was seriously injured when he fell inside an empty 3,000-gallon vinegar vat. OSHA's said the facility lacked numerous safeguards for employees whose duties require them to enter confined spaces. The agency says a 33-year-old worker fell into a vinegar tank as he climbed inside to clean it. Police said the man was on a ladder when he fell after becoming overwhelmed by the odor. He spent five days in a hospital.