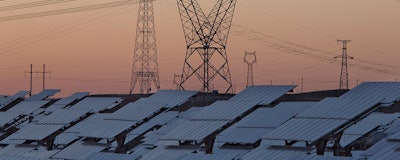 TOKYO (AP) — U.S. Energy Secretary Rick Perry said Monday that he hopes China will step forward to be a "real leader" on climate issues, while refuting criticism that the United States is backing down.
President Donald Trump's decision last week to pull the U.S. out of the Paris climate agreement has sparked speculation that he is creating a leadership void that China could fill.
Perry, in Tokyo en route to a meeting of energy ministers in Beijing, said: "I hope China will step in and attempt to take the mantle away. It would be a good challenge for them."
But he prefaced that remark by saying "the United States is not backing down from its role as a leader in cleaning up the climate."
Earlier Monday, Energy Secretary Rick Perry told his Japanese counterpart, Hiroshige Seko, that the U.S. commitment to the environment is unchanged, according to Kazushige Tanaka, a Japanese industry ministry official who was at their meeting.
Perry said that the United States, as it has led the effort in tackling carbon reduction and clean coal technology, will continue to be a leader in developing clean energy and its technology.
He agreed with Seko on Japan-U.S. cooperation in clean energy and the environment, as well as nuclear energy and the cleanup of the Fukushima nuclear power plant, which was damaged by the 2011 earthquake and tsunami.
"If you're a millennial, and you care about the environment of where you live locally and of the world, then you need to be for nuclear energy," Perry said. "Zero emissions."
He said that laboratories overseen by the U.S. Energy Department are researching ways to harness nuclear power, from small modular reactors to fusion.
Perry visited the Fukushima nuclear complex Sunday and offered U.S. help to decommission the plant, which is expected to take decades.
"We offer continued support, expertise, companies that have history of dealing with cleanups and technology available, as well as the Department of Energy," he said.