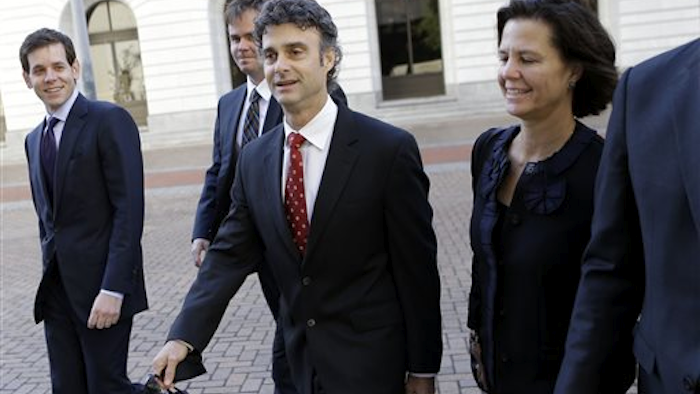 NEW ORLEANS (AP) — A former BP engineer accused of deleting text messages after the Gulf oil spill and ensuing investigation pleaded guilty Friday to lesser charges and avoided prison time.
Kurt Mix had been fighting an obstruction charge for more than three years. In federal court, he pleaded guilty to intentionally causing damage without authorization to a protected computer. Prosecutors suggested no prison time for Mix, and a judge sentenced him to six months of probation.
Mix had been part of a BP team trying to stop an underwater gusher of oil that followed the Deepwater Horizon explosion. In October 2010, about six months after the spill, he deleted text messages he had exchanged with a contractor during the spill, prosecutors said.
Outside the courthouse, Mix said he had done nothing wrong. His lawyer Joan McPhee said the outcome was vindication and that the government should have never prosecuted him.
She said the text messages in question constituted a conversation with a friend that had almost nothing to do with the oil spill and that Mix had worked tirelessly for 90 days as part of the team that tried to stop the oil spill.
Prosecutors declined immediate comment.
At a 2013 trial, he was acquitted on one obstruction charge and convicted on another. But he won a new trial on that conviction because of juror misconduct. According to court records, the jury forewoman told deadlocked fellow jurors that she had heard something outside of the courtroom that increased her confidence in voting guilty.
Mix's defense team has long said there is ample evidence he shared information about the flow rate at the well site throughout the government investigation. They also said prosecutors failed to prove Mix knew the information he deleted would be pertinent to a grand jury investigation. They said he didn't even know about the investigation.
In June, former BP executive David Rainey was acquitted on charges that he made false statements to investigators in connection with the spill.
Trial is pending for BP well-site leaders Robert Kaluza and Donald Vidrine, who have pleaded not guilty to manslaughter charges stemming from the 11 deaths.
In November of 2012, federal authorities and the oil giant announced a settlement of criminal cases arising from the explosion, the resulting deaths of 11 rig workers, and the aftermath. The corporation agreed to plead guilty to charges including 11 felony counts of misconduct or neglect of a vessel's officers, one felony count of obstruction of Congress, and one misdemeanor count each under the Migratory Bird Treaty Act and the Clean Water Act. Penalties totaled $4.5 billion.