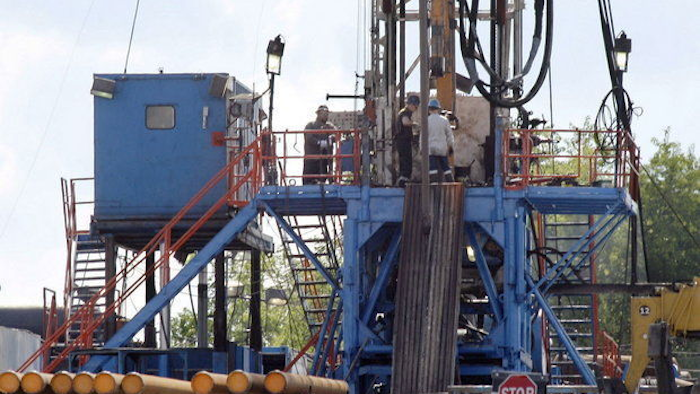 Federal officials on Thursday released the first comprehensive look at earthquakes caused by human activity, including fracking.

The report from the U.S. Geological Survey examined 17 areas in eight states from the Ohio Valley to the Intermountain West that experienced increased seismic activity in recent years.

The agency said several of those areas saw a dramatic increase in induced earthquakes since 2009. Researchers believe those tremors could stem from hydraulic fracturing, in which pressurized water, sand and chemicals break up underground shale formations to drill for oil or natural gas.

Officials said wastewater from fracking and other operations can increase pore pressure and lubricate fault lines when injected into underground wells, although most operations do not produce earthquakes. USGS research says fracking "is only occasionally the direct cause of felt earthquakes."

The report identified preliminary models for forecasting future seismic activity in the central and eastern U.S., including predictions regarding earthquake frequency and severity. A final model is scheduled to be released at the end of the year.

"These earthquakes are occurring at a higher rate than ever before and pose a much greater risk to people living nearby," said Mark Petersen, chief of the USGS National Seismic Hazard Modeling Project.

The USGS report identified Oklahoma as the hardest-hit state in recent years. The state recorded three times as many earthquakes as California in 2014, and the Oklahoma Geological Survey this week acknowledged the "very likely" role of fracking in that development.

"We're used to two or three earthquakes a week, but … two or three every day now, this past week, is really strange," Dea Mandeville, the city manager of Medford in northern Oklahoma, told National Public Radio.

Seismic activity also increased in Kansas, Colorado, New Mexico and Ohio, along with the Dallas-Fort Worth area in Texas, according to the USGS analysis.