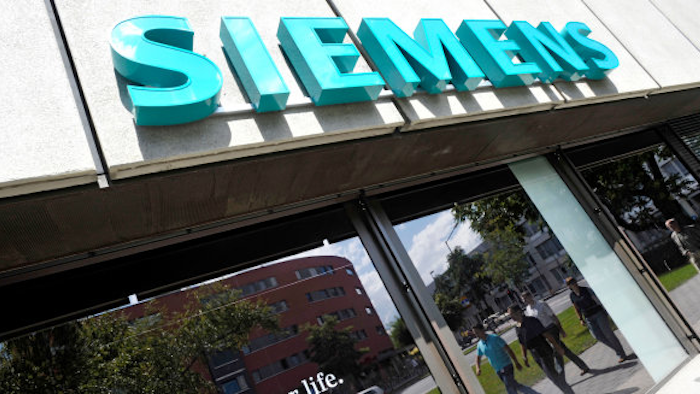 Siemens is supplying two gas turbines and one steam turbine for the new Holland Energy Park combined cycle power plant in Holland, Michigan. The local municipal utility, Holland Board of Public Works (HBPW), is replacing an aging coal-fired plant with a new fuel efficient modern power plant, slated for commercial operation in fall 2016. With the new Siemens technology, the CO2 emissions at the site will be reduced by approximately 50 percent.
Siemens' scope of supply includes two SGT-800 gas turbines and one SST-400 steam turbine. Siemens will also provide a long-term service contract for the SGT-800 gas turbines. The new plant's cogeneration capabilities provide it with an extremely high fuel efficiency level and will generate approximately 125 megawatts (MW) in summer and 145 MW in winter.
A special feature of this plant is the use of surplus heat from the circulating water system for use in expanding a downtown snowmelt system. The City of Holland maintains the largest municipally-owned snowmelt system in the United States; the underground pipe system spans roughly 11.5 acres (500,000 square feet) of city roads and sidewalks. In the cold weather months from October until April, Michigan has an estimated average of 32 days of snowfall, with up to 70 inches per year. Circulating water from the Holland Energy Park plant will run through a heat exchanger to warm water for the snowmelt system in the downtown area. This, in turn, alleviates the need to salt or plow during the winter months. The system can melt approximately 1 inch of snow per hour in temperatures of 15 to 20 degrees Fahrenheit.
In addition to its function in the snow melt and power space, Holland Energy Park will serve as an educational resource, with special architectural details that allow for public tours and public green space surrounding the facility with nature trails. HBPW has registered with the Institute for Sustainable Infrastructure in an effort to obtain an Envision Platinum Rating for this state of the art facility.
"Siemens is pleased to be the technology partner for this forward-leaning energy project, which provides sustainable power while also bolstering the city's innovative snowmelt system. As we continue to see a shift toward distributed power, Holland Energy Park will serve as a model for how a community can collaboratively work to address its power generation needs," said Barry Nicholls, US lead for Siemens Power and Gas division.
"The City of Holland is a leader in researching and implementing new ways to save and reduce energy consumption. Its cooperation with Siemens is a good example of this. Siemens supports the sustainable strategy of implementing reliable, world-class technologies to build our Holland Energy Park. We plan to make the plant accessible to the public at large to foster further interest in the city's goal of implementing a socially, economically and environmentally responsible solution for supplying power into the 21st century," states Daniel Nally, Business Service Director of HBPW.