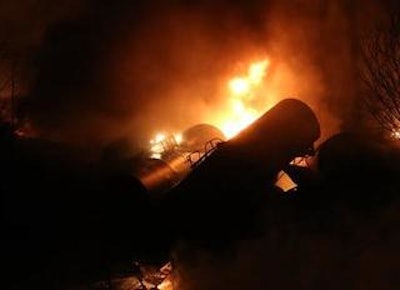 This most recent crude-by-rail disaster wasn't quite the major catastrophe many have feared. But it got close. Real close.
On Monday, a train carrying more than a 100 tankers of crude oil derailed and sent an atomic-looking fireball into the sky. One witness reported to the BBC that the locomotive of the train came off the track and plowed into the home of a local pastor. Somehow, he made it out alive.
No one was killed in the incident, but at least one person was sent to the hospital due to smoke inhalation and about 200 people were evacuated from their nearby homes. The explosions continued for hours and caused crude from the train cars to leak into a local creek.
Concerns over transporting crude on America's railways are nothing new, and this incident isn't the first of its kind. In fact, crude-by-rail travel and derailments are on the upswing recently. Though the U.S. has yet to see a disaster like the one that happened in Canada in 2013 — when an oil train wreck blasted away most of a small town in Quebec, killing 47 people instantly and spilling 1.5 million gallons of crude — it isn't far-fetched to imagine it happening here.
According to one estimate, rail carloadings of crude — especially from the Bakken oil fields in North Dakota, Montana and Canada to refineries on the East and West Coasts — was up 13.4 percent in most of 2014 over 2013.
Oil trains travel directly through our forests, our towns, our big cities, past our backyards. And it's clear that when they do, we're literally playing with fire.
Which is why this latest crash should send a powerful warning to those looking to stop pipeline construction in the U.S.
Pipelines, of course, are no picnic either, and untangling which method is safer isn't cut and dry. But here's a quick breakdown of what's at stake:
By Rail
One of the biggest worries with trains is their proximity to people and thus the risk to human life.
To give the issue perspective, check out this Vice News video showing how trains carrying crude roll through the heart of Seattle, a stone's throw from the stadium where tens of thousands of people gather to watch the Seahawks play during football season.
After several derailments last year, the industry and federal government got busy with adopting and proposing new measures to increase crude-by-rail safety.
One of the main focuses has been on the design of the train cars most often used to transport crude — DOT-111 tank cars that were shown to be too easily punctured and not able to withstand strong impacts.
But here's the rub: This crash on Monday didn't involve DOT-111 tank cars. CSX, the company operating the derailed train said the wreck involved the new model of tank cars — CPC 1232s —that safety regulators have been pushing for (as did the tank cars involved in an April 2014 derailment in Virginia).  
New conditioning standards were also set by the North Dakota Industrial Commission to address the volatility of crude that comes from Bakken, which some say is more akin to jet fuel than traditional crude.
But even with this combination of changes, moving crude by rail — on "bomb trains" as some call them — is obviously still dangerous.
Down The Pipes
While ruptures and spills — including a handful already this year — have underscored a similar lack of adequate regulations with pipelines, many continue to conclude that this is still the safest route.
According to one report, between 2005 and 2009, the rate of hospitalization among oil pipeline workers was 30 times lower than compared to rail workers involved in transporting oil.
Another study by the U.S. State Department, released just a few weeks ago, estimated that without Keystone, transporting oil on trains could cause an average of an additional six rail-related deaths per year. The study focused on the impact of the TransCanada pipeline and analyzed historical fatality and injury statistics for railways and pipelines.
Which isn't to say that pipelines pose no risk to human life, and there are certainly valid reasons why pipelines mak
e environmentalists cringe.
For example, the 2010 Enbridge pipeline rupture unleashed more than a million gallons of crude into the Kalamazoo River. No one died, but this kind of water contamination is a nightmare to clean up. And because of how fast it spreads, spills in the water pose a quicker and more significant threat to wildlife than spills on land.
Making this gamble even bigger is how much more crude can be transported via pipelines.
Keystone, for example, would be equipped to carry about 35 million gallons per day across the country.
A train with 100 cars, on the other hand, could carry about three million gallons of crude in about three days across the same distance.
Money, of course, is also a driving factor in transport option and when it comes to economics, the scales tilt to pipelines. According to a Congressional Research Services estimate, transporting crude via pipeline costs about $5 a barrel, compared to about $10 to $15 by rail.
Wrong Side of The Tracks
Arguments about how Keystone impacts all of this are unsurprisingly divided.  
Some argue that Keystone wouldn't curb the threat of crude-by-rail disasters since it would take crude north to south, as opposed to the East and West Coasts where it often travels by train.
But the American Petroleum Institute has nevertheless estimated that if Keystone isn't built, demand of crude-by-rail will continue to rise. And the fact remains that Keystone would have the capacity to carry up to 100,000 barrels of crude from Bakken a day.
Meanwhile, about 70 percent of all the oil produced in North Dakota is currently being hauled away by train and some have said rail companies are struggling to keep up with the supply of crude the region is producing. Without easing that pressure with a pipeline, more and more oil is going to be loaded onto trains.
To some extent, comparing pipelines and trains is a playing a game of "pick your problem."
Pipelines are no silver bullet (and every measure should be taken to make them safer to avoid damaging and costly spills), but it's still a gamble that seems more sensible to take.
And while pipeline opposers tangle up the process of building Keystone, the "bomb trains" keep rolling, putting anyone nearby at risk.
ENTRIES OPEN: Establish your company as a technology leader. For 50 years, the R&D 100 Awards, widely recognized as the "Oscars of Invention," have showcased products of technological significance. Learn more.