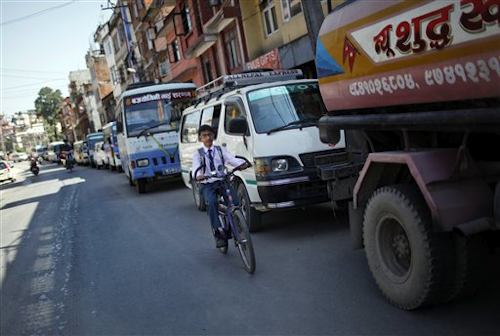 KATHMANDU, Nepal (AP) — Struggling with a fuel shortage after Indian shipments stopped, Nepal is asking suppliers to bring gasoline and kerosene by airplane before the Himalayan country begins celebrating its biggest festival of the year. And for the first time, it is looking to import fuel from China.
The state-run Nepal Oil Corp. said Thursday it also needs aviation fuel and diesel, after supplies were cut off two weeks ago. Since then, the country has had to halt all fuel sales for private vehicles, and was rationing what was left among hospitals, government offices and police.
India, which supplies all of Nepal's fuel, has said there is no official blockade, but that its truck drivers are simply reluctant to cross the border to make deliveries because of ongoing protests by an ethnic group against the country's newly adopted constitution.
Some schools have closed because there is no gasoline for the school buses. Meanwhile, the halt in truck shipments has hurt Nepal's stocks of medicine and food.
Amid the chaos, Nepal is now looking at the possibility of Chinese fuel imports for the first time, according to Nepal Oil Corp. spokesman Deepak Baral, though for now it would need shipments by air after roads linking the two countries across the Himalayas were badly damaged in April by a set of devastating earthquakes.
Nepal, nestled between India and China, has long been a focus for competition between the two Asian giants vying for influence in the tiny nation that shares cultural and religious ties with mostly Hindu India but has become annoyed with what it sees as New Delhi meddling in its domestic affairs. Both India and China sent their largest-ever foreign aid missions to Nepal after the earthquakes.
With Nepal poised to celebrate the Hindu festival of Dasain next week, Nepal Oil Corp. decided to ask suppliers to submit proposals by Sunday for flying in shipments through the international airport in the capital, Kathmandu, said.
The request was open to all international suppliers, indicating Nepal's readiness to move away from its exclusive agreement with the Indian Oil Corp.
During the two-week Dasain festival, celebrating the Hindu goddess Durga's defeat of an evil demon, Nepal's Hindus and Buddhists alike typically travel to their home villages and visit relatives while businesses and schools closed. They also sacrifice buffalos, chickens and goats, but the fuel shortage has prevented trucks from bringing sacrificial animals to temples from the countryside.
State carrier Nepal Airlines said Thursday it would send two jets to the east Indian city of Kolkata to fill up on fuel before returning to Nepal, according to airline official Ram Hari.
Only a few tankers carrying gasoline and diesel have crossed into Nepal over the past two weeks, as the ethnic Madhesi group has staged almost daily protests near the main border points between the countries.
The Madhesis, who have close relations with India, are demanding that Nepal's new constitution be amended and its newly formed state borders be redrawn. They want their state to be larger and to be given more autonomy.
Ongoing talks between the group and the government have made little progress so far.