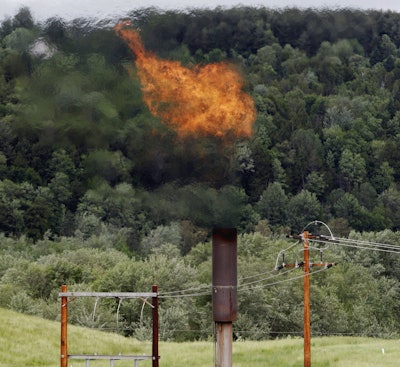 The Trump administration will enforce an Obama-era regulation aimed at restricting harmful methane emissions from oil and gas production, even as it seeks to rewrite the rule to be more industry-friendly, Interior Secretary Ryan Zinke said Tuesday.
Zinke told the Senate Energy Committee that Interior will enforce those parts of the methane regulation that have taken effect. The promise comes despite an announcement last week that Interior is postponing parts of the rule that take effect next year.
Under questioning from Democratic Sen. Maria Cantwell of Washington state, Zinke said he agreed that burning off, or "flaring," of excess methane gas at drill sites is wasteful. He said he hopes to design a rule that ensures taxpayers get fair value for the gas while not punishing industry.
Asked by Cantwell if he would promise not to "spend the next six months dragging your feet" on a new rule, Zinke replied: "Ma'am I do not drag my feet."
The methane rule, finalized last November, forces energy companies to capture methane that's flared at drilling sites on public lands because it earns less money than oil. An estimated $330 million a year in methane is wasted through leaks or intentional releases on federal lands, enough to power about 5 million homes a year, officials say.
Methane, the primary component of natural gas, is about 25 times more potent at trapping heat than carbon dioxide, although it does not stay in the air as long. Methane emissions make up about 9 percent of U.S. greenhouse gas emissions that contribute to climate change, according to government estimates.
A bid by Senate Republicans to overturn the methane rule failed unexpectedly last month, prompting Interior officials to promise to suspend, revise or rescind the regulation as part of a wider effort by the Trump administration to unravel what it considers burdensome regulations imposed by former President Barack Obama.
Katharine MacGregor, acting assistant Interior secretary for land and minerals, said in a statement after the Senate vote that the methane rule imposes a "significant regulatory burden that encumbers American energy production, economic growth and job creation."
The Obama-era rule "is expected to have real and harmful impacts on onshore energy development and could impact state and local jobs and revenue," MacGregor said, adding that states such as North Dakota, Colorado and New Mexico could be hit the hardest.
Zinke did not dispute MacGregor's statement, telling committee members that the Obama-era rule is poorly written and needs to be redone.
"My intention, so you know, is to rewrite the rule" without imposing "undue costs" on industry, Zinke told Cantwell.
Earlier, he told Cantwell that the Senate bid to eliminate the methane rule had failed by a single vote, showing the rule's unpopularity in Congress. Cantwell said a close vote on repeal was not an excuse to ignore the law.
"Ma'am that's not what I said," Zinke replied sharply.
Zinke said he "absolutely" would seek public comment before rewriting the rule and hopes to ensure that as much methane as possible is captured by energy companies.
"It's a public asset we're flaring, and we need to incentivize it so it's used and not wasted," he said.
On other matters, Zinke noted that he is the only Senate-confirmed appointee at his agency and asked Congress to move quickly to confirm David Bernhardt, a former Interior lawyer, as his deputy, and act on other nominees.
Democrats said President Donald Trump has left dozens of high-level positions unfilled at Interior and other agencies.