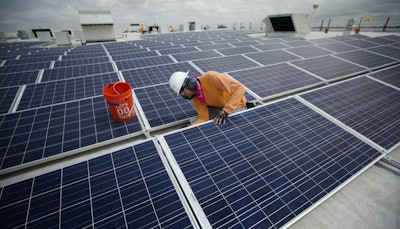 A political fight in Maine over the state's nascent solar energy system is reportedly drawing national attention from both sides of the energy industry.

The Pine Tree State isn't exactly known for its sunny weather, but statistics last year showed that residents' rooftop solar panels eclipsed 1 percent of peak electricity demand — which prompted regulators to examine the state's solar practices.

Currently, utilities in Maine — like many states — employ a policy called net metering, which pays rooftop solar users for the power that they send to the broader power grid.

Utilities argue that the model is unsustainable as they are forced to pay more and more homeowners despite their ongoing operating costs; solar energy advocates, meanwhile, consider efforts to undermine net metering a fundamental attack on rooftop solar.

An agreement in Maine reached by stakeholders on both sides, however, would end most net metering and instead allow utilities to pay rates set by regulators under 20-year price agreements with homeowners and small businesses.
Proponents argue that the measure would help bolster solar energy in Maine while protecting utility ratepayers, but Republican Gov. Paul LePage characterized the payments as "subsidies."

"We were in favor of a mechanism that went in a market-based direction, but this isn't it," LePage administration energy official Lisa Smith told the Portland Press Herald.

The debate over the forthcoming legislation, meanwhile, could be a bellwether for other states as solar energy is deployed in increasing numbers around the country — a trend considered likely to accelerate amid cheaper and more efficient panels and improved energy storage systems.

Bloomberg reports that at least 16 other states are considering changes to rooftop solar regulations.

"Everyone is watching what happens in these small states, since they're on the forefront of this issue," Autumn Proudlove of the North Carolina Clean Energy Technology Center told Bloomberg.