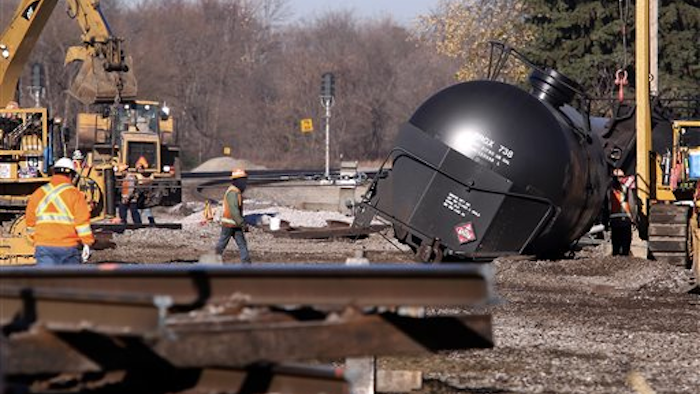 Crews worked Monday to clear freight cars from rail tracks and contain spilled crude oil and chemicals after two trains derailed in Wisconsin over the weekend.
More than a dozen cars of a Canadian Pacific Railway train loaded with crude oil jumped the tracks in Watertown on Sunday afternoon, puncturing one car that spilled hundreds of gallons of its load and caused the evacuation of a neighborhood in the small southern Wisconsin city.
Residents who evacuated dozens of nearby homes following the derailment were still being kept away Monday as 12 derailed cars were moved to a temporary track. Thirteen of the train's 110 cars derailed, and 109 of them were carrying crude oil, officials said.
Crews were dismantling and removing the car that was punctured, Canadian Pacific spokesman Andrew Cummings said, adding that it spilled no more than 1,000 gallons. The railroad said the leaking car was sealed, the oil contained and siphoned off, and that none of the product reached any waterways.
It was the second freight train derailment in as many days in Wisconsin. On Saturday, 25 BNSF train cars including tankers derailed, spilling as much as 20,000 gallons of ethanol from five tankers along the shores on the Mississippi River near Alma in western Wisconsin.
​BNSF said railroad crews stopped the leaks from five tanker cars and placed containment booms along the shoreline. BNSF said there was no evidence of environmental damage and that trains should be able to use the affected tracks by Monday evening.
Federal Railroad Administration regional administrator Steven Illich said there was no reason to believe the Watertown derailment was anything but an accident.
"We have no indications that it is criminal. However, again, we won't rule anything out until we have a chance to do a full investigation," Illich said. Investigators will look at several key areas including the track, he added.
"There will be metallurgic tests that will be done, not only on the rails, but on the wheels on the train cars," Illich said.
Watertown fire chief Gregory Michalek said Monday that residents who evacuated 35 homes following the spill cannot return home until the cleanup is complete. They were escorted to their homes by officials late Sunday to retrieve pets, medicine and clothes. Officials will re-evaluate the situation in Watertown on Monday evening and decide if residents can return, Michalek said.
Those evacuated were sent to hotel rooms, Cummings said.