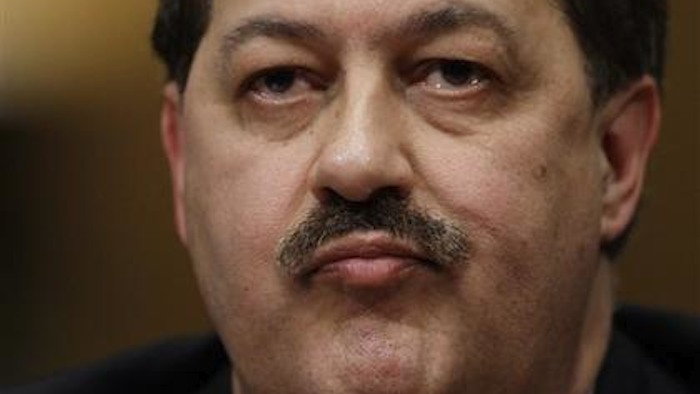 Massey Energy management required alerting underground miners when federal inspectors arrived at Upper Big Branch Mine — the site of a deadly explosion in 2010 — so workers could stop mining and quickly attend to neglected safety problems, a former Massey miner testified in former company CEO Don Blankenship's criminal trial Thursday.
In Charleston federal court, former miner Bobbie Pauley was the first witness of several from the company expected to testify for the government against Blankenship.
Blankenship is charged with conspiring to break mine safety laws and lying to financial regulators about safety practices at Upper Big Branch, in southern West Virginia. A 2010 explosion killed 29 miners there in the worst mine disaster in four decades. Blankenship's trial began with jury selection last Thursday, and both sides delivered opening arguments Wednesday.
Pauley, who worked as a dispatcher outside the mine prior to the explosion, said managers all the way up to Massey subsidiary president Christopher Blanchard ordered the warning system at Upper Big Branch. Blanchard is expected to testify for the government as a key witness.
Pauley said an inspector once was near her when she was making a warning call, and former mine superintendent Gary May told her not to let the inspector hear the conversation.
In 2013, May was sentenced to one year and nine months in prison on charges he defrauded the government through his actions at Upper Big Branch, including disabling a methane gas monitor and falsifying records.
"You just made sure you were running legal," Pauley said of how miners responded to the warning calls.
Pauley said Blankenship himself didn't instruct her to make those warning calls. She recalled speaking to him only a few times after the mine explosion.
Blankenship attorney William Taylor has contended the executive wasn't involved in the warning system.
"People (Blankenship) didn't know at the mine called other people he didn't know at the mine to tell them when inspectors were at the mine," Taylor said in his opening argument Wednesday.
In a 2013 plea hearing, former Massey executive David Hughart implicated Blankenship in cover-up efforts at Massey mines. Hughart, who did not work at Upper Big Branch, was sentenced to 3 1/2 years in prison for conspiring in an illegal scheme to warn miners and other subsidiaries of surprise safety inspections, and is expected to testify against Blankenship.
On Thursday, Pauley also described ventilation problems when she worked underground at Upper Big Branch. She recalled seeing workers leave coal dust monitors in well-ventilated areas so the samples would be more positive. Coal dust can be highly flammable and breathing in too much can cause black lung disease.
She said one highly touted Massey safety program was "scoffed at" by Massey miners, and she never received a copy of it. She said she had never heard of another safety program when prosecutors asked her about it.
In opening arguments, prosecutors painted Blankenship as a profit-hungry executive who prioritized making money over keeping his mines safe, and was intricately involved in even minimal decisions at Upper Big Branch.
Taylor said Blankenship did not think breaking regulations was a smarter business plan than fixing health hazards, despite his reputation as a tough boss and divisive public figure.