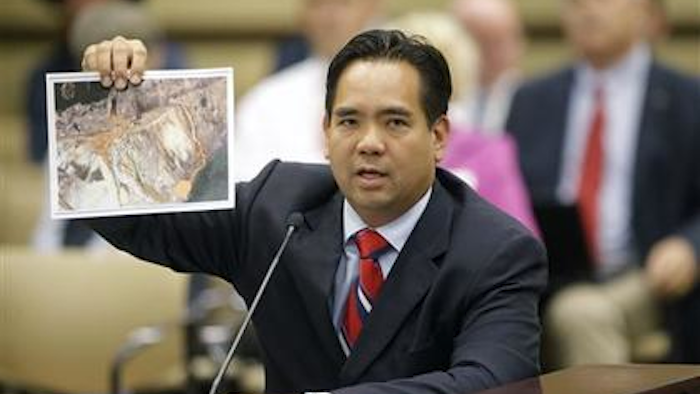 Utah Attorney General Sean Reyes on Wednesday toured the Colorado site where millions of gallons of wastewater erupted from an abandoned mine and said he's weighing legal action if the federal government's proposal to fix the damage downstream falls short.
People in southern Utah still don't know what they should do with their animals and crops, Reyes said, and the long-term effects of the heavy metals in the 3 million gallons of waste could weigh on the state for decades.
"I don't think the state of Utah should bear that cost," he said.
Reyes described the Silverton, Colorado, spill site as a giant, gaping hole near a quaint, historical gold-mining town. The spill happened after years of plugging other mines and tunnels in the area allowed water to build up at the Gold King Mine site, he said.
Reyes said he is starting to hear what the Environmental Protection Agency might do to fix the damage caused by the spill, which was accidently set off by EPA workers Aug. 5, and he wants to make sure the response is sufficient.
Reyes, who was joined by Colorado Attorney General Cynthia Coffman for the tour, said EPA workers on the ground were helpful but guarded.
Utah officials have expressed frustration about a lack of communication from the agency as the spill passed through their state and two others.
Reyes is investigating what caused the accident and what the long-term effects of the spill might be on people who depend in the river in southern Utah.
Wastewater is still flowing from the mine but is now being held by containment pools and treated. Repair work is also set to begin in the next day on the road there, he said.
Also Wednesday, the Interior Department announced it would lead a review of the Colorado mine spill after all six senators from the affected states of Utah, New Mexico and Colorado sent a letter with more than a dozen pending questions.