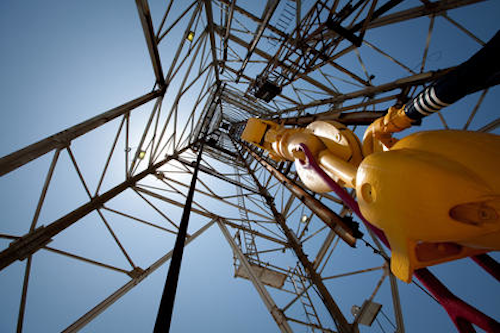 NEW YORK (AP) — Shares of the world's biggest oil companies are tumbling to multi-year lows on new data showing that U.S. crude inventories continue to rise at a time of year when they are typically in decline.
Commercial inventories increased by 2.6 million barrels last week, according an Energy Information Administration report Wednesday, jolting energy analysts. Those analysts expected a decline of 1.2 million barrels, according to a survey by Platts.
The EIA says "U.S. crude oil inventories remain near levels not seen for this time of year in at least the last 80 years."
Oil prices are down about 50 percent over the last year. On Wednesday, crude prices fell to $40.80 a barrel in New York, their lowest close since March 2, 2009. Shares of Exxon Mobil, BP, Marathon Oil, Chevron and ConocoPhillips all slid to multi-year lows.
Marathon Oil Corp. suffered a 6.5 percent drop in afternoon trading. They recovered from a session low that took the shares to their lowest prices in six years.
Chevron Corp. shares lost about 2.7 percent and ConocoPhillips fell 3.5 percent, while Exxon Mobil Corp. declined 1.8 percent. All reached three- or four-year lows.
Energy companies invested heavily in drilling over the past few years, when the price of oil was generally over $100 a barrel. A combination of growing supplies and slow growth in the world economy weakened demand and made for a big drop in prices in the second half of 2014, a trend that's resumed this summer. Energy companies have slashed jobs and curtailed drilling activity in response.
The Energy Information Administration said there were 456 million barrels in commercial inventories as of Friday. That total has fallen over the last few months, as it normally does, because refiners make more gasoline to meet driving demand in the summer.
Analyst Thomas Pugh of Capital Economics said the main reason for the increase in inventories was refinery outages for maintenance and other issues. He said oil production continues to drop and gasoline stocks fell more than expected, which shows demand is high.
"The bigger picture is one of strong demand for gasoline and falling oil output, which should give some support to prices over the rest of the year," said Pugh. He expects oil to finish the year at $50 per barrel.