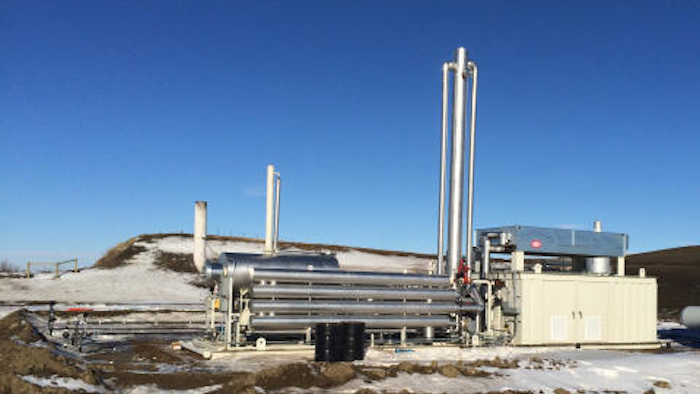 Torrent Energy Services, LLC and CSL Capital Management are pleased to announce they executed definitive agreements that will provide Torrent with growth capital to accelerate its business plan. Torrent offers modular gas processing equipment and services that allow oil and gas producers and midstream companies to recover valuable natural gas liquids (NGLs) while reducing flaring and emissions.
Torrent leases and operates mechanical refrigeration units (MRUs) based on tried and true technology. Built new, Torrent's skid-mounted plants are capable of processing very rich natural gas and have the mobility to rapidly respond to customer needs, even in the most extreme weather conditions. Torrent's plants convert heavy hydrocarbons (C3+) into a stabilized, truckable, Y-Grade NGL product. The clean residue gas — primarily methane and ethane — is used to fuel ancillary equipment, including natural gas generators and compressors also provided by Torrent. Any remaining gas can be gathered or flared with a reduction in VOC emissions of 70 percent or more, allowing customers to meet permit requirements.
Torrent is active in multiple regions including the Bakken Shale, Permian Basin, California, Utica Shale and Piceance Basin. Torrent is an established leader in North Dakota's Bakken Shale, where the company helps multiple customers meet the state's new gas capture requirements.
"Torrent's business plan is compelling because of the powerful combination of proven leadership and best-in-class technologies coming together to solve an industry-wide problem," said John Griggs, a managing director at CSL and a member of Torrent's board of directors. "Torrent has an exceptional management team that brings more than 75 years of experience in the processing, treating and compression industries as well as proven solutions for reducing the environmental impact of natural gas flaring. The result is a winning solution for Torrent's customers that utilizes residual natural gas to generate power at the wellhead and create incremental revenue through NGL recovery. Over the past two years, Torrent has built an outstanding track record and has laid the groundwork to aggressively scale up its business. We are excited to partner with Lance and his team in this next phase of expansion."
"With customer demand exceeding our inventory, partnering with CSL provides us the ability to build equipment for our backlog of orders and to accelerate our build program to have multiple plants under construction at any given time. This will shorten our delivery cycle so we can quickly and efficiently meet customer demand," said Lance Perryman, Torrent's president and chief executive officer. "We will also be adding to our team to strengthen our ability to deploy and service refrigeration and power generation needs throughout North America."
Mr. Perryman is an oil and gas veteran with more than 20 years of industry experience. Prior to founding Torrent he served as the vice president of sales and marketing for Zephyr Gas Services, LLC. He has also held senior positions with Exterran Holdings (NYSE: EXH), Hanover (now Exterran), NATCO Group (acquired by Cameron) and Smith Industries. Torrent's other founding partners include Chris Czuppon, who serves as chief financial officer, and Mike Chiste, executive vice president. Mr. Czuppon and Mr. Chiste each has 15 years of oil and gas experience including management consulting, investment banking, private equity and most recently the formation and management of several other oilfield service companies.