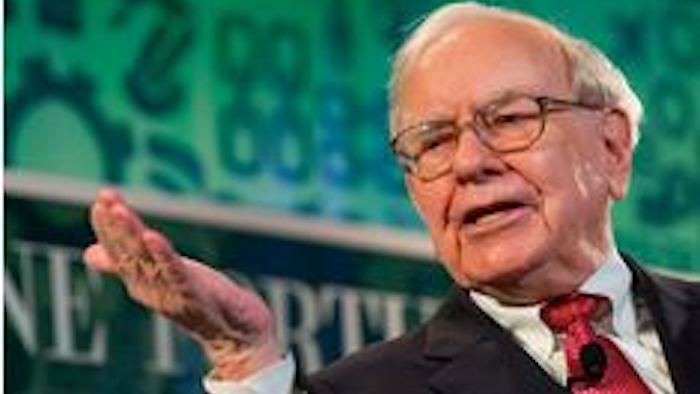 Billionaire Warren Buffett's company unloaded its 41 million shares of Exxon Mobil Corp. and sold a smaller stake in ConocoPhillips as oil prices fell last fall.
Berkshire Hathaway Inc. filed an update on the stocks it held at the end of 2014 with the Securities and Exchange Commission Tuesday.
Berkshire had only held the Exxon Mobil investment since the third quarter of 2013. Buffett's company previously bought 1.3 million shares of Exxon Mobil in late 2009, but didn't hang onto that stock long.
Berkshire recorded a number of moves during the last three months of last year, including buying 15.6 million shares of Deere & Co. stock and adding nearly 6.5 million shares to its already sizeable IBM holdings to give it nearly 77 million shares.
Berkshire officials do not typically comment on these quarterly stock portfolio updates, and they did not immediately respond to questions Tuesday afternoon.
Many investors watch the filings closely because they like to copy Buffett's moves given his remarkably successful record. Buffett is chairman and CEO of the conglomerate based in Omaha, Nebraska.
Berkshire's combined filing includes investments made by two other executives at the company, so it's not always clear whether Buffett made the decisions.
Buffett has said investments smaller than $300 million are likely to be the work of Berkshire's investment managers. Another new investment revealed Tuesday was likely the work of either Todd Combs and or Weschler — Berkshire's investment managers. Berkshire now owns 4.7 million shares of Twenty-First Century Fox Inc.
Berkshire increased its holdings in Charter Communications Inc., DaVita Healthcare Partners Inc., DirecTV, Liberty Global plc, MasterCard Inc., Suncor Energy Inc., Phillips 66, Precision Castparts Corp., Viacom Inc. and Visa Inc.
During the fourth quarter, Berkshire decreased its investments in National Oilwell Varco Inc. and Bank of New York Mellon Corp.
Besides investments, Berkshire owns more than 80 subsidiaries in a variety of industries, including insurance, utilities, railroads, retail and manufacturing.