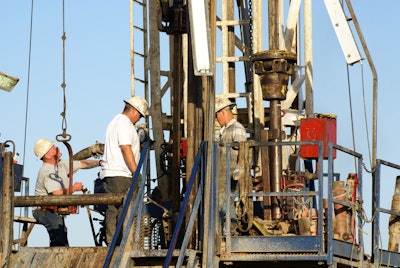 Oilfield service company delivers drilling information to remote users via the cloud to increase productivity and enhance safety.
Our company was founded in December 1964 as Midwest Well Logging, and in November 2006 was purchased by a private investment group and renamed PML Exploration Services (www.pmles.com) to better reflect our long term goals. Since the acquisition, PML has expanded our operations across the U.S., and developed our own gas analysis and rig data management solutions. These solutions provide secure web-based real-time information to our customers via the cloud.
When drilling oil or natural gas wells, employee safety and the integrity of the well are the primary concerns (Figure 1). To enhance safety and increase productivity, PML analyzes the rock cuttings and gases from the drilling fluid to ascertain information about the drilling process, commonly referred to as mud logging.
PML also supplies gas analysis systems at the surface of the site to provide early detection and evaluation of reservoir gasses, and to assess their potential to become hazardous to rig personnel. Local PML data acquisition systems can also interface with other systems such as measurement while drilling (MWD), thereby acting as a central data repository for all important well site information.
When PML initially began providing gas and geological information as well as analysis at the rig site, there were no systems in place to give current information to the wellsite managers and to the remote office staff charged with overseeing the drilling of the well. Reports were provided twice a day in order to update the rig and office staff on gas and geological conditions. Delays could be as long as twelve hours between the actual analysis and the report provided to PML's customers.

These reports contain vital information regarding crude oil and natural gas deposits, as well as data on critical rock structures that must be isolated for safety and production reasons. Continuous monitoring of the gas components and their quantities correlated with drilling information is critical for ensuring safety. Furthermore, this data is also required to make timely decisions that ensure maximum return on investment through optimized wellbore placement.
The time delays between receiving the reports and adjusting the drilling system to the required specifications could cause problems. Conditions might have changed during the delay, putting the structural integrity of the well in danger, and opportunities for optimization of the drilling process could be missed. Thus, our customers needed a system that could deliver information on a more current basis.

In order to provide well operators with real-time information that would help them to drill more safely and efficiently, PML began looking for a solution that would enable us take advantage of web-based applications and the extensive data capabilities of cloud technology.
Moving to Real-Time
To provide information in real-time and eliminate 12-hours or more delays, we researched different HMI providers and decided on InduSoft (www.InduSoft.com) Web Studio, a PC-based HMI and SCADA software package. We found that for an affordable price, we could easily configure web-based solutions that would facilitate remote access to information.
Another important selection factor is the HMI software's international capabilities. Although PML is an American- based company, we have plans to expand into international markets. In order to efficiently translate application user interfaces and reports into other languages, we need HMI software that can handle simple, customizable translations and conversion of engineering units.
We learned that InduSoft Web Studio supports Unicode fonts, which enable the use of many different character sets including but not limited to the Latin alphabet, Cyrillic and Greek fonts, Chinese characters and Japanese Kanji. Moreover, its one-click translation would make it easy to translate the entire application into another language.
We also appreciated that InduSoft Web Studio provides over 240 native drivers that communicate with every major brand of PLC, as well as offering OPC support, making it easy to configure an application to communicate with any new combination of equipment, regardless of the manufacturer. This is particularly important at drilling sites as many contain control and measurement systems from various suppliers, all of which need to be interfaced to the HMI which acts the central data repository.
Moreover, by using the software's built-in support for the cloud, we knew we wouldn't need to invest in IT infrastructure such as extra data storage capacity or backup servers as those items would be managed by the cloud provider. With the cloud, we also knew all patches and upgrades would be made simultaneously across the network without any effort from us or disruption to the users.
Remote Data Access Gives Our Customers the Edge
The Edge solution we developed for data acquisition, display and remote access of wellsite information is now used on approximately sixty active rigs. Data is monitored constantly by PML employees at the wellsite, and is also sent directly to our home offices and to our customers' desks over a satellite connection, even if these remote users are thousands of miles away from the drill site. These remote well operators use InduSoft Web Thin Client and other features to keep track of changes by simply pulling viewing live data and reports from the cloud.
The process begins with the rig systems used by PML. These mobile units consist of portable trailers where the employees assigned to the well observe continuous gas analysis and drilling information in addition to performing a detailed analysis of geological samples from the wellbore (Figure 2). The HMI software is installed on a laptop PC that acts as the local server.
PML's portable gas analyzer, controller and data acquisition solution incorporates a PLC. The PLC at the rig communicates with PC-based HMI software via Modbus communications. Other control and measurement systems at the well site can be connected to the HMI. At the rig, PML employees track changes in total gas, gas constituents, drilling information and geological conditions using the software's chart and trending functions (Figure 3).
The data from the SCADA software is sent via a satellite connection to the cloud, where it can be viewed with devices (smartphones, tablets, thin clients, PCs, etc.) enabled by InduSoft's Web Thin Client and Studio Mobile Access features. These features are included in the software and easy to configure, so it's not necessary to write code to implement the cloud-based data distribution solution.
Profiting from the Cloud
With its HMI software, PML has been able to adopt the Software as Service (SaaS) cloud model to provide our customers remote access to meaningful information in real time. Our customers pay a daily rental fee for our services, and local and remote distribution of the well site data is included in the price. Because our solution is cloud-based, our customers don't need to install any software on their remote devices, or make any investments in computing infrastructure.
PML's ability to share information including wellbore characteristics such as gamma ray, liberated gas components, lithology, penetration rates and directional information with key stakeholders in real-time via the cloud adds significant value to our suite of evolving solutions.
Rig operators and site managers have ready access to data, even at locations remote from the site. The native and flexible security system included in InduSoft Web Studio allows PML to consolidate data from several wells in the cloud, while still maintaining tight security by restricting data access based on the credentials (user name and password) of each user logged on to the cloud via a remote device.
PML currently has more than sixty active systems that can be placed across the country to deliver rapid-fire results that site managers can review on devices like smart phones, tablets, thin clients and PCs. Clients can also be proactively alerted to alarms and events through text messages, SMS or email. Upon receiving an alert, users can log onto the system via any smart mobile device powered by an iPhone, Android, Blackberry or Windows Phone 7 operating system to monitor the critical variables of their wells. For remote users at fixed locations, thin clients and PCs are often used for remote access.
Our Edge solution provides a number of benefits to our clients and to our company as summarized in Table 1.
Table 1: Solution Benefits
Improved productivity of drilling operations
Enhanced safety at well site
Easy scalability as wells come on and off line
Real-time data and analysis available anywhere
Easy system access via smartphones and tablets
No need for redundant backup servers
Alarm notifications via text, SMS or email
By providing gas analysis, detailed geological data and other information in real-time via the cloud, PML helps well operators optimize their operations and protect their investment while ensuring well site safety. With real-time data, cost-saving changes like varying the speed, direction and drill loads can be put into effect the moment relevant information is available, making the entire drilling process much more affordable, safe, and efficient.
Our customers are so pleased with our Edge solution that PML intends to further develop the system to provide real-time geosteering of the rock bit to ensure the client's wellbore is accurately and safely placed for optimum return on investment.
The cloud will continue to evolve and improve as computing costs decline and as wireless communication speeds increase. Smartphones and tablets will also get better, further improving the remote data viewing and analysis experience for our customers, and in turn allowing them to improve their operations, cut costs and enhance safety.