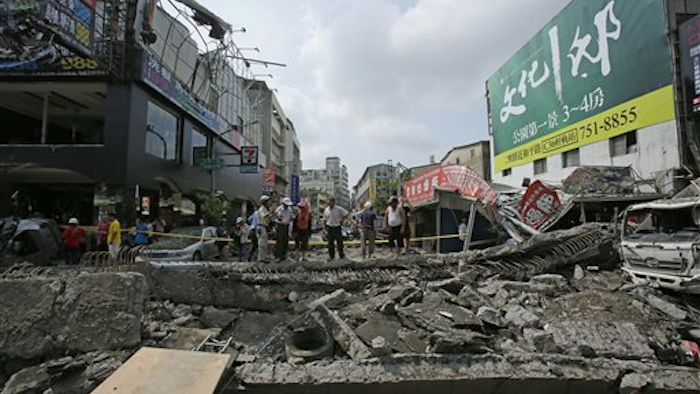 TAIPEI, Taiwan (AP) -- Authorities in Taiwan's second-biggest city zeroed in on a petrochemical firm Saturday in their investigation into a series of gas pipeline explosions that killed 28 people and injured 286, as anger rose over the handling of the disaster.
The government is seeking to pinpoint the cause of five blasts that tore through streets in the city of Kaohsiung starting at around midnight Thursday, flinging cars into the air and blasting cement rubble at passers-by, many of whom were out late at a nearby night market.
The city's environmental officials said LCY Chemical Corp., a Taiwanese petrochemical firm, had failed to notify authorities of problems with a pipeline in the area despite being aware of irregularities in deliveries going through that pipeline that night. This caused delays in the government's response to the disaster, said the officials, who are facing growing public anger.
"If we were informed earlier by LCY, we could have evacuated everyone," Chen Chin-der, director of the Environmental Protection Bureau in Kaohsiung, an industrial port city of 2.8 million people, said at a televised news conference Saturday.
The pipeline was leaking nearly four tons of propene every hour as pressure dropped at around 8:45 p.m. Thursday, Chen said.
Propene, also known as propylene, is mainly used for making the plastic polypropylene, which is used in a wide variety of packaging, caps and films. It is a highly flammable, colorless gas with a mildly unpleasant smell.
Because the leak went on for so many hours as firefighters and environmental officials struggled to identify the nature of the gas and its source, it was able to rapidly accumulate in density and spread a greater distance, Chen said.
"The leak was at a different location from the explosions, because propene was leaking and spreading through the sewer system everywhere," Chen said in a telephone interview. "When the density of propene is very high, anything can trigger an explosion, anything as small as a cigarette, or starting the engine of a motor scooter."
The city's fire department and environmental authorities first received reports of a gas leak from residents in the area several hours before the explosions. They summoned representatives of a few companies to the site of the leak to check their pipelines, but all of them, including LCY Chemical, said their operations were normal, according to Chen and other environmental officials.
Thinking at first that the leak was that of natural gas, firefighters poured water at the site in the hope of dissolving the gas. When it became clear it was not natural gas, environmental experts were called in to take samples, a city news release said.
The experts were only able to identify the gas as propene at around 11:55 p.m., Chen said. But by then it was too late. A few minutes later, the blasts started ripping the streets apart.
Chang Jui-hui, chief secretary of the Environmental Protection Bureau, said records and data collected later by investigators from LCY's plant and that of its supplier, China General Terminal & Distribution Corp., showed abnormalities in the delivery of propene that night, with significant changes in pressure in the pipeline. Yet the companies did not notify the authorities, Chang said.
The supplier said it had initially shut off the propene pump when it noticed irregularities several hours before the blasts, but had resumed delivery on LCY's request. "Our preliminary judgment is that it is that stretch of line that had the problem," the supplier's assistant manager, Lin Kuo-chung, told local television channel FTV News.
LCY Chemical Corp. said it would cooperate with the investigation. "Our priority is to figure out the truth and responsibility," company spokeswoman Pan Lee-lin told a news conference.
Some local residents questioned the way the authorities handled the leak and subsequent blasts that left a 2-square-kilometer (1-square-mile) trail of destruction. One resident told television channel TVBS that five minutes before the explosions, the authorities told them: "Everything is under control. You can go home and sleep."
The blasts also damaged rows of shops and low-rise apartments. Tens of thousands of people lost utilities in the disaster zone, but a deputy economic affairs minister said Saturday that water and power would be restored within five days.
Industrial-use pipelines run through Kaohsiung's residential neighborhoods because industry preceded the construction of houses, said city spokesman Ting Yun-kung. Kaohsiung contains much of Taiwan's heavy industry, especially petrochemicals, and the explosions were the city's worst in 16 years.
The disaster was Taiwan's second in just over a week, following the July 23 crash of a TransAsia Airways prop jet on the island of Penghu that killed 48 people and injured 10.
Associated Press writer Gillian Wong in Beijing contributed to this report.