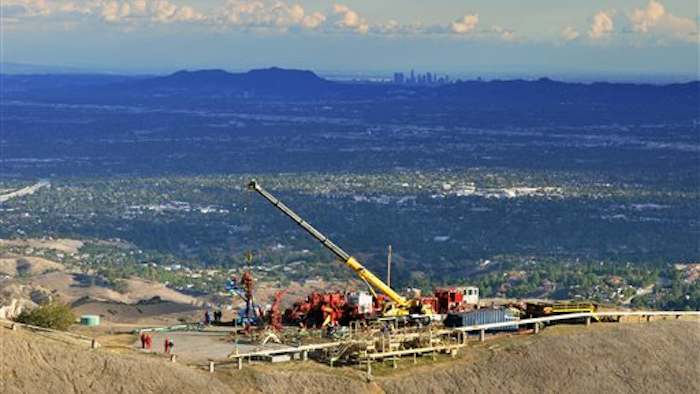 LOS ANGELES (AP) — Dozens of Los Angeles County residents who say an uncontrolled leak from a massive natural gas storage field is making them sick plan to speak at a county Board of Supervisors meeting Tuesday and demand a full investigation of the leak, its causes and possible solutions.
The planned testimony comes as the leak near Porter Ranch has persisted for a month.
Residents have complained of nausea, headaches and other maladies, but the company that operates the storage field — SoCalGas — has said it does not pose a serious health threat. The residents planning to testify Tuesday issued a statement saying the company has "misled the public about the health risks."
About 30 families in the area have been temporarily relocated because of the leak, officials said.
Last week, California's gas and oil regulator issued an emergency order requiring the company to provide a plan for stopping the flow.
Representatives of the county's fire, public health and planning departments are also expected to speak at the supervisors' meeting.
Supervisor Michael Antonovich, who is also a member of the South Coast Air Quality Management District, said in a statement Monday that the AQMD will issue a notice of violation to the Southern California Gas Company for causing a public nuisance.