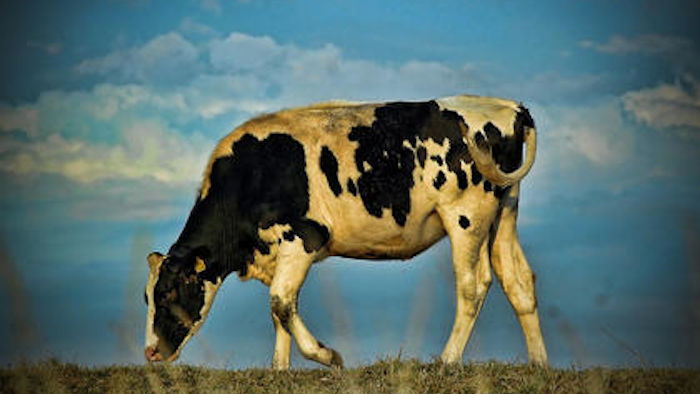 It's not just a stinky issue — methane emissions from bovine belching and flatulence is a serious contributor to greenhouse gases from the U.S.
Estimates vary about how much daily methane an average cow releases, but most compare it to the amount of pollution produced by a car in one day. And though CO2 is a bigger contributor to greenhouse gases in terms of volume (it contributes more than half of global emissions), methane is about 22 times more damaging toward climate change than carbon dioxide.
But researchers at Penn State University have found that a chemical additive can significantly reduce methane emissions from the farm.
High-producing dairy cows in the study were given the supplement 3-nitrooxypropanol (or 3NOP) and after 12 weeks, the cows' methane emissions were reduced by 30 percent.
The chemical works because it blocks a digestive enzyme called methyl coenzyme-M reductase, which is produced by intestinal microbes as the cows break down their fiber-laden diet.
The scientists published their results in a recent issue of the Proceedings of the National Academy of Science. In addition to reducing the cows' gas, the additive also helped the bovines gain weight, which the researchers say is a critical detail to making the additive cost-effective for dairy farmers.
"Dairy cows go through phases, and they lose a lot of weight when they calf. They don't eat enough, and they produce a lot of milk and lose weight, so if we can cut down the energy loss with the inhibitor, the animals will gain more body weight and recover more quickly," said Alexander Hristov, a professor of dairy nutrition. "Further, they may produce more milk in early lactation and have improved reproduction. It's something that will convince producers to use it."
The 3NOP compound was developed by DSM Nutritional Products, a Dutch company that is one of the world's biggest suppliers of feed additives.
The researchers said the next step is to test the chemical on an industry scale. If approved by the U.S. Food and Drug Administration and adopted in agriculture across the U.S., they said the additive could significantly cut down on farm methane admissions, which account for 25 percent of total methane emissions in the U.S.