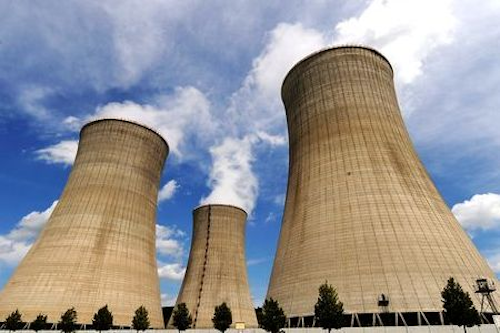 COLUMBUS, Ohio (AP) — Waste from the decontamination and decommissioning of a Cold War-era uranium plant in southern Ohio will go to an on-site disposal facility under a U.S. Department of Energy plan approved this week by the Ohio Environmental Protection Agency.
The Portsmouth Gaseous Diffusion Plant in Piketon produced enriched uranium until 2001, and the shutdown left behind old buildings, industrial chemicals and radioactive areas. Approval of the on-site waste disposal plan helps pave the way for major physical cleanup and redevelopment at the property roughly 60 miles south of Columbus, Ohio EPA Director Craig Butler said in a statement.
"Careful consideration has gone into making this a viable, safe plan for cleanup and revitalization of this site," he said.
The disposal plan clears the way for initial steps to create a disposal cell that could be used to store waste that meets certain standards. The plan also allows for some materials, such as those with certain types of contamination, to be taken to appropriate off-site locations, the EPA said.
The Energy Department also has recommended plans for possibly demolishing dozens or hundreds of old buildings and structures at the property. That plan hasn't yet been approved by the EPA.
The disposal plan had support from local officials and lawmakers representing the area. Pike County Commissioner Blaine Beekman said the long-awaited decision is critical to get the cleanup rolling and to support lawmakers' efforts to secure continued federal funding for the project.
"They can say, 'Look, here's the plan for the cleanup. Let's get it done,'" Beekman said.
But there are still unanswered questions, including exactly which types of waste will go where, said United Steelworkers local president Herman Potter, who represents hundreds of Piketon workers. Union officials also wants to ensure that construction of the disposal facility doesn't inhibit other redevelopment at the site, and they worry the language of the plan leaves room for extending the duration of the project and reducing needed jobs — a big concern in a pocket of high unemployment, Potter said.
Some area residents and environmental activists also have objected, with complaints about the selection process and concerns about future use of the disposal site.
U.S. Sen. Rob Portman, a Republican from southwest Ohio, said the community agreed to on-site disposal to accelerate the cleanup but remains concerned about the site's future now that the Energy Department estimates the work will take another three decades. Portman said he'll continue pushing for the project to be expedited.