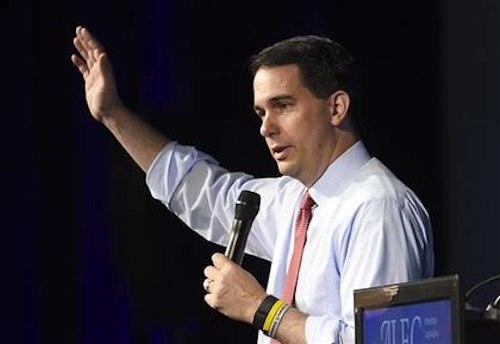 MADISON, Wis. (AP) — Republican presidential candidate Scott Walker said Monday he would shift most of the responsibilities of the U.S. Environmental Protection Agency to state-based regulators, leaving the EPA to serve as an "umbrella organization" that would resolve disputes between them.
Like many Republicans, the Wisconsin governor is a vocal critic of the agency charged with enforcing the nation's laws against pollution. While Walker said he would not eliminate the EPA if elected president, he would shift its powers and resources to state environmental agencies such as Wisconsin's Department of Natural Resources.
In an interview with the Washington Examiner, and later during a campaign stop in Chicago, Walker said the proper role for the EPA is to serve as a mediator to resolve disputes between such state agencies.
The EPA, Walker said, should become "an umbrella organization that really is limited to mediating interstate conflicts over, say, where a body of water or a piece of land goes through multiple states."
The EPA currently has the primary responsibility for enforcing many of the nation's federal environmental laws and regulations, such as the Clean Water Act, and sometimes issues policy or guidance to encourage states to comply with those laws.
For example, the EPA says its proposed rule that aims to reduce greenhouse gas emission from coal-fired power plants gives states flexibility to come up with their own plans to meet the targets set by the EPA.
Lisa Heinzerling, a law professor at Georgetown University and former EPA associate administrator, said Walker's approach would instead result in 50 different air quality standards and 50 different states conducting basic scientific research to support environmental protection.
"If Gov. Walker really does desire meaningful environmental protection in this country, taking power fromEPA and giving it to all 50 states is a very silly way to achieve it," she said. "His idea is a really inefficient, and almost certainly ineffective, way of protecting the environment."
Proposals to dramatically scale back the EPA, its duties and responsibilities have been popular with Republicans for years. Former House Speaker Newt Gingrich in 2011 was one of the first Republicans to call for an outright elimination of the agency, and former GOP presidential candidate and U.S. Rep. Michele Bachmann called it a "job-killing organization."
Wisconsin is one of 15 states suing the EPA over a proposed plan that requires states to cut carbon dioxide emissions by 30 percent by 2030. Walker sent a letter to President Barack Obama in May calling the proposed rule "unworkable," ''riddled with inaccuracies" and "questionable assumptions" that made it unworkable for Wisconsin.
The EPA has accused Walker's administration of failing to adequately protect air and water quality since 2011, when he became governor. The EPA said last year that it would impose rules for limiting fine particle pollution in Wisconsin if the state didn't submit overdue plans for controls on smokestack emissions.
Walker's campaign spokeswoman, AshLee Strong, said he would release more details about his plans for theEPA — along with other ways he wants to empower states — in the coming months.
George Meyer, who served as secretary of the Wisconsin Department of Natural Resources between 1993 and 2011, said the agency he led — and to which Walker proposes giving more power — would be unable to fill the role now played by the EPA.
"There was constant pressure on states to lower environmental regulations and enforcement because of competition between states," said Meyer, who is now the executive director of the Wisconsin Wildlife Federation and among Walker's vocal critics in Wisconsin.
A strong federal EPA is needed, he said, "to keep a level playing field between the states, otherwise it becomes a race to the bottom."