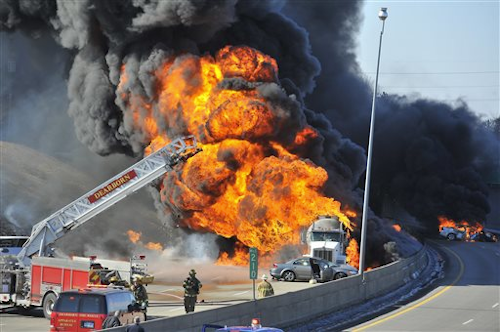 Luckily, no one was hurt in this incident. But this tanker truck carrying petroleum engulfed in flames on a Michigan interstate caused quite a sight.
The truck burned for nearly two hours after being involved in a crash with two other cars on Wednesday morning. The incident happened between Dearborn and Detroit. According to the Michigan Department of Transportation, fuel spilled into nearby sewers, which caused subsequent fires.
Part of the interstate reopened later in the day, but because of the damage caused by heat and spilled fuel, MDOT officials said part of the highway would likely be closed through the weekend.
While headlines of oil train disasters have dominated the news recently, moving petroleum via trucks remains the most dangerous method of transport, from the standpoint of accident potential. And according to one report, most petroleum transported around the U.S. ends up on a truck at some point for the shorter durations of its journey. But trucks currently only serve about 4 percent of the country's crude shipping needs.