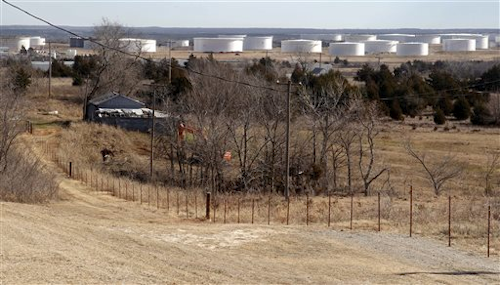 CUSHING, Okla. (AP) — The massive oil storage complex at Cushing is nearing its operational capacity as oil inventories nationwide continue to rise.
Home to the nation's largest oil storage facility, Cushing's sprawling tank complex held more than 51.5 million barrels of oil as of March 6, The Oklahoman reported Sunday.
Oil inventories have grown for eight consecutive weeks as of Feb. 27, according to the U.S. Energy Information Administration. The buildup has averaged 7.7 million barrels a week, marking the largest such increase since at least 1982.
Storage at Cushing is up almost 25 percent over the past five weeks and 172 percent higher than the nearly 19 million barrels reported about five months ago. The oil storage facility at Cushing can hold about 80 million barrels.
As Cushing fills, companies are sending oil to other storage facilities throughout the country, including the Gulf Coast and west Texas.
Growing storage levels are helping hold down oil prices. After collapsing 59 percent in six months to a low of $44.45 on Jan. 28, the price of oil has increased gradually.
Some industry analysts have forecast oil prices to continue increasing throughout the year, but rising storage levels are threatening those bullish projections.
Growing storage levels are reflected in the EIA's updated short-term energy outlook. The agency raised its projection for Brent prices to average $59 a barrel in 2015 and $75 a barrel in 2016, with domestic prices averaging $52 a barrel in 2015 and $70 in 2016.
Part of the reason for the growing domestic storage is because refineries throughout the country are in their regular, biannual maintenance season, retooling to produce the more expensive, cleaner-burning summer blend fuel required by federal regulators. At best, the maintenance process requires one or two weeks, but the maintenance often reveals larger problems that take longer to fix.