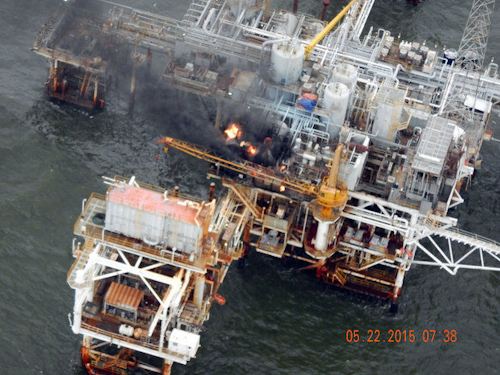 NEW ORLEANS (AP) — Fire broke out Friday morning on an oil platform off Louisiana's coast, forcing the evacuation of 28 workers, the U.S. Coast Guard said.
No injuries were reported. Workers were evacuated by an offshore supply vessel that reported the fire at 2:50 a.m. Friday in state waters near Breton Island off Louisiana's southeastern coast, the Coast Guard said in a news release.
Texas Petroleum Investment Company, the owner and operator of the platform, estimated no more than 120 barrels of crude oil — about 5,040 gallons — were stored on the platform. Coast Guard officials had earlier worried that storage tanks on the platform were filled to their capacity of 168,000 gallons.
Production on the platform was shut down. The Coast Guard said a light sheen of oil could be seen along a more than one-mile stretch of water.
Petty Officer Ryan Tippets said a firefighting vessel was on scene and another was en route Friday morning.
"The production platform where the fire occurred gathers oil and then pumps it through a pipeline so there is little oil stored on site and all wells feeding the platform have been shut down," David Marguiles, spokesman for Texas Petroleum Investment, said in an email.
The statement said a compressor on the platform is believed to have caught fire.
The platform is used to gather some 90,000 gallons of oil a day from a field of 50 to 60 wells, Marguiles said. While it has a capacity of 168,000 barrels, far less was being stored at the time of the fire, he said.