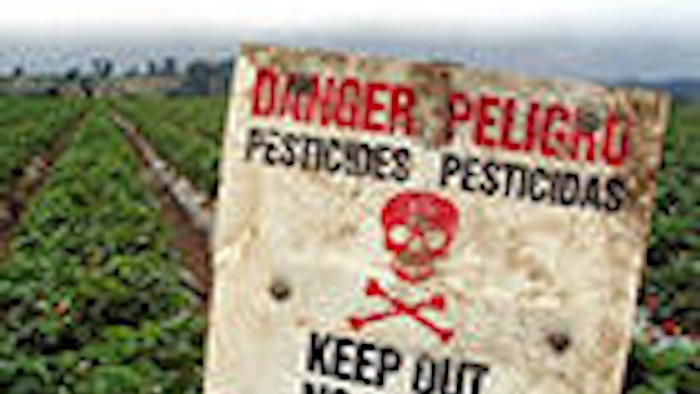 GRANTS PASS, Ore. (AP) — Two state agencies are investigating aerial spraying operations on private timberlands in the southern Coast Range, where a member of the spraying crew says
he had to regularly take shelter from herbicides sprayed from a helicopter.
The Oregon Department of Agriculture and Oregon Occupational Safety and Health Division said Thursday they were alerted through the Oregon Emergency Response System after truck driver Darryl Ivy quit his job on the spraying crew and went to a hospital last month complaining of blisters in his mouth and a swollen airway.
Mercy Medical Center in Roseburg notified the Roseburg Fire Department on April 26 because Ivy's case involved hazardous chemicals, Assistant Fire Chief Steve Brewer said.
Ivy told the Oregonian newspaper in Portland that he took a job driving a chemical truck for Applebee Aviation, and had to repeatedly seek shelter in his pickup when a helicopter spraying herbicides flew overhead. He said he worked for 17 days at the Seneca Jones Timber Co. site in Douglas County where herbicide was being spayed to control weeds and brush so newly planted seedlings could grow faster, a routine practice on private timberlands. Ivy complained of itchy skin and coughing up blood.
Brewer wrote in a report to the Oregon Emergency Response System obtained by The Associated Press that Ivy's exposure to a low-toxicity herbicide went on for two weeks, he was decontaminated, and his clothes secured.
"It is reported (that) the workers are not provided proper safety gear while working with this herbicide and that the helicopter releases the herbicide overhead while they're working," the report said.
The Oregonian reported Ivy provided hours of video and hundreds of photos of the spraying, including scenes of a milky liquid dousing his truck windshield and spray falling near workers.
Seneca Jones timberlands manager Tim Reiss did not immediately return a phone call from The Associated Press, but told The Oregonian that company observers saw nothing to substantiate Ivy's claims. Reiss said the company took the case seriously and was cooperating in the investigations.
Applebee Aviation owner Mike Applebee did not return a call from the AP and declined to comment to The Oregonian.
Ivy did not return a telephone call and an email from the AP.
Lisa Arkin of Beyond Toxics, a pesticide watchdog group, said she advised Ivy to go to the emergency room after he attended a town hall meeting in Roseburg about herbicide spraying on private timberlands.
Oregon OSHA spokeswoman Melanie Mesaros acknowledged the agency was investigating Seneca Jones and Applebee Aviation on whether regulations protecting workers from exposure to pesticides were violated. The investigation could take up to six months.
"It could relate to things like proper personal protective equipment, training and supervision," she said.
The Oregon Department of Agriculture regulates herbicide spraying on timberlands and is also investigating Ivy's case, spokesman Bruce Pokarney said.