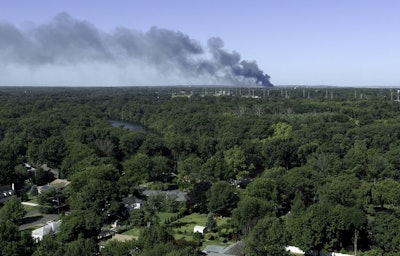 NORTH BRUNSWICK, N.J. (AP) — A large warehouse fire fueled by plastics, autos and household goods sent plumes of black smoke into the air Wednesday that were visible from space.
The fire broke out early in the morning in the rear of the complex that is used by eight businesses in North Brunswick, Fire Chief Donald Salzmann said. The flames quickly overtook a sprinkler system and spread from one end of the building to the other.
Firefighters decided to let it burn out and could be on the scene dealing with hot spots through the evening, the chief said. By the early evening, the blaze was under control and about 85 percent extinguished, officials said. The cause of the inferno was not known and the investigation would not begin until the flames were out.
The flames lit up the night sky, and the billowing thick smoke was visible on a weather satellite photo.
Residents of a nearby apartment building were ordered to leave after heat from the blaze set the siding on fire. Others were moved as a precaution over fears of potential toxins being released from the burning plastic.
Officials said the evacuated residents would not be allowed to return on Wednesday night, and it wasn't known how long they would be out of their homes.
Officials were monitoring air quality and would continue to check the smoke for any health threats, Dwayne Harrington of the Environmental Protection Administration said.
No dangerous levels of toxins were detected, but Mayor Francis Womac III recommended that nearby residents stay inside and turn off their air conditioners as a precaution.
About 75 nearby residents remained in a shelter early Wednesday night. Low water pressure was an issue and tanker trucks, along with firefighters from within a 20-mile radius, were brought to the scene. A firefighter was treated at the scene for a hand injury.