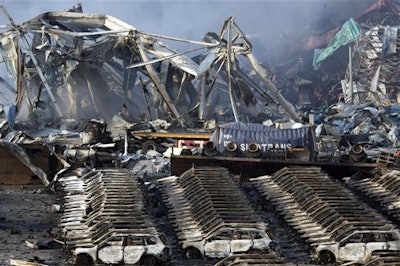 BEIJING (AP) — The death toll rose Monday to 158 from massive explosions of chemical warehouses in the Chinese port of Tianjin, where cleanup crews were grappling with cyanide contamination caused by the blasts. About 15 people remain missing, authorities said.
The Tianjin government's official microblog said the confirmed toll rose from 150 last week, but it wasn't clear how the tally increased. Calls to the city's information center rang unanswered. Among the dead were 94 firefighters, 11 policemen and 53 civilians, and the missing included 10 firefighters, the Tianjin government said.
The Aug. 12 series of blasts at Ruihai International Logistics warehouses storing hazardous chemicals was one of China's worst industrial accidents in years, and has exposed lax enforcement of safety regulations. The warehouses were closer to homes than is allowed under safety regulations, and they were storing too much hazardous material.
Authorities are investigating wrongdoing in permit approvals and regulation of the company, and have detained 12 company employees and executives, including the primary owner who was on the board of a state-owned company and kept his ownership of Ruihai hidden as a silent partner.
Authorities also have detained 11 government officials in the investigation.
Among the dangerous chemicals at the warehouses was 700 tons of sodium cyanide, and authorities say they have sealed all waterways leading out of the blast zone to curb cyanide contamination as teams in hazmat suits clean up hazardous debris.
The Tianjin Environmental Protection Bureau said Monday that water samples inside the disaster zone have shown levels of cyanide just over the safety level to 20 times the safety level. No cyanide has been detected in nearby seawater, the agency said.