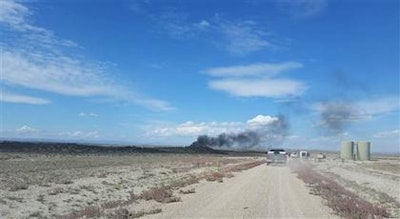 SALT LAKE CITY (AP) — One of four men injured in a blast at a western Wyoming natural gas storage tank has died, a Salt Lake City hospital official confirmed Wednesday.
Marissa Villasenor, a spokeswoman for the University of Utah Hospital, said the worker injured in Tuesday's explosion died overnight at the hospital's burn unit.
Two other patients remained in the burn unit, Villasenor said. She released no further details.
A fourth worker was treated locally and released.
K Leonard, a spokeswoman for Houston-based EOG Resources, which owns the tank, did not immediately return messages Wednesday. She said Tuesday that two of the injured workers are EOG employees and the two others are contract employees.
Lincoln County Sheriff's Office spokesman Stephen Malik said the blast occurred when a maintenance crew was cleaning out the storage tank in the desert about 30 miles northwest of Green River.
Firefighters quickly put out the flames, but the cause of the blast was unknown, Malik said.
The explosion was about 15 miles from the site of anther gas plant explosion earlier this year.
In April, a blast at a western Wyoming gas processing plant prompted a daylong evacuation of the nearby town of Opal.
That explosion caused no injuries but did start a fire that burned for five days. The plant was owned by Tulsa, Oklahoma-based Williams.
Not far away are two of the nation's biggest gas fields — the Pinedale Anticline and Jonah Field about 50 miles northeast of the EOG tank. Many more gas wells dot the eastern slope of the Wyoming range.
Accidents in the oil and gas industry have made Wyoming's workplace injury and death rates some of the worst in the country.