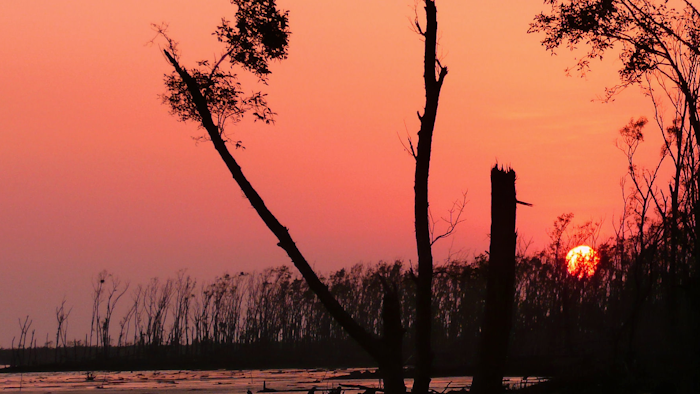 Anisur Rahman Dhaka, India — Bangladesh today retrieved an oil-leaking sunken tanker, two days after it capsized in a river at the Sundarbans, as the oil overnight spread in 34,000 hectares at the world's largest mangrove forest.
"The oil tanker, Southern Star 7, has been salvaged... a rescue vessel pulled it out from the river and towed it to a nearby shoal," a forest official said.
Only two out of six chambers of the tanker remained intact as rest four emptied after being hit by a cargo vessel, chairman of nearby Mongla Port Commodore Habibur Rahman said adding that the tanker was carrying 350,000 liters of furnace oil while the two chambers contained 100,000 litres.
No official estimate was issued on the extent of oil spillage but sources said it might have spread over 50 km on the waters of Shela where the tanker sank, and Pashur rivers.
Authorities, meanwhile, ordered an intensified campaign to remove oil from the waters as it had spread quickly through a wide network of rivers and channels in and around the forest.
Shipping Minister Shajahan Khan said powdered chemicals would be sprayed from a vessel to subside the oil so that the risk of oxygen reduction in the water could be minimised. Officials said the rescue vessel is equipped with oil dispersants, which can handle up to 10,000 litres of oil.
"We have planned measures to remove the oil by the next three days also engaging local fishermen to use their traditional methods of neutralising oil," Rahman said.
The forest officials, however, began the use of fishing nets to sweep away oil last night while the local administration asked the residents at the neighborhood to collect oil and sell the substance to the state-owned Padma Oil Company to get back incentives. The government shut down a riverine route pierced through the Sundarbans for movement of vessels "until further order." \
The measures came following an overnight inter-ministerial meeting with the shipping minister amid calls from environmental activists to ban commercial vessels in the routes in and around the Sundarbans. TV footage showed the Shela river painted with black layers of oil with the oil sweeping across the surface and the mangrove plantation on its both sides. Locals said they spotted several forest animals including lizards and otters floating dead near the river banks. The scene of the accident is known as a sanctuary for dolphins and different rare aquatic animals and fishes. The Sundarbans forest, which covers 26,000 square km in India and Bangladesh, is also the habitat of famous Royal Bengal tigers.