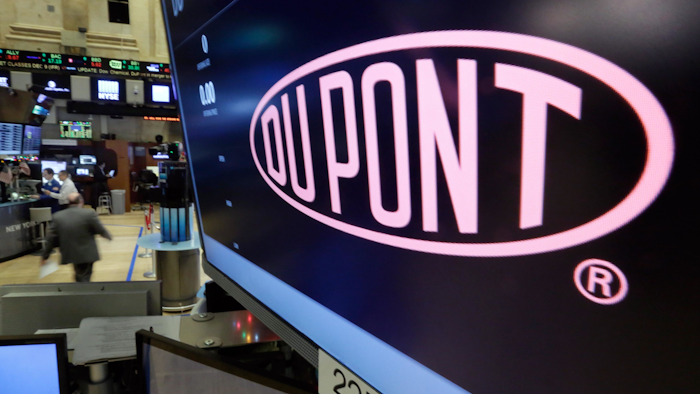 WILMINGTON, Del. (AP) — DuPont topped third-quarter expectation as sales climbed in segments including industrial biosciences and agriculture. The chemical company also boosted its full-year adjusted earnings outlook.
DuPont is preparing for its merger with Dow Chemical. Shareholders approved the deal in July. Once complete, the century-old companies plan to break into three parts. DuPont Chairman and CEO Ed Breen said in a written statement Tuesday that the deal could close in early 2017 if regulators take their full allotted time to approve it.
For the three months ended Sept. 30, DuPont earned $2 million, or a penny per share. A year earlier the Wilmington, Delaware-based company earned $235 million, or 14 cents per share.
The current quarter included a $158 million asset impairment charge and $122 million in transaction costs.
Adjusted earnings were 34 cents per share.
That's better than the 21 cents per share that analysts surveyed by Zacks Investment Research predicted.
Revenue rose to $4.92 billion from $4.87 billion, with volumes improving on increased demand mostly in performance materials, agriculture, nutrition and health and industrial biosciences. Analysts expected $4.88 billion in revenue, according to a Zacks poll.
DuPont now foresees full-year adjusted earnings of $3.25 per share. Its prior guidance was for adjusted earnings in a range of $3.15 to $3.20 per share. Analysts surveyed by FactSet expect full-year earnings of $3.19 per share.