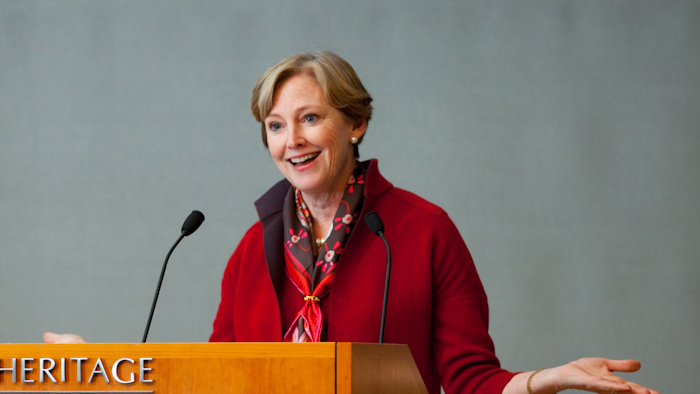 DuPont's former chief executive told a women's leadership conference this week that mergers like the one proposed between her former employer and Dow Chemical only serve "bankers and lawyers."

Ellen Kullman, who retired as DuPont's chairwoman and CEO just more than one year ago, did not comment directly on the Dow-DuPont deal at the Most Powerful Women summit in California.

But in her first public appearance since stepping down, she was critical of deals that merge companies only to split the new entity apart shortly thereafter.

Dow and DuPont hope to separate into three publicly traded companies — focused on agriculture, material science and specialty products — within two years of their merger.

"Break up, recombine — that doesn't create any value except for bankers and lawyers," Kullman told Fortune.

Dow reportedly approached DuPont about a deal in late 2014, while Kullman was in charge. The following year, Kullman withstood a high-profile challenge from activist investor Nelson Peltz, who supported a merger.

At the time, Kullman maintained that DuPont was stronger on its own and with its numerous business operations. She retired last October — a decision, she told the conference, in part prompted by the Peltz proxy battle.

"It just seemed like I was the lightening rod, and it seemed like at that point the best thing for the company was to make a change," she said at the conference.

Peltz was reportedly involved in subsequent negotiations between Dow and DuPont under Kullman successor Edward Breen.

Dow and DuPont hoped to complete their merger by the end of the year, but delays in a European Union review are likely to push it into 2017.

The proposal also came under fire in the U.S. due to concerns about competition in the agrichemical market, although analysts ultimately expect it to receive approval from antitrust regulators.

Dow and DuPont executives maintain that the deal will ultimately benefit the companies, shareholders and consumers.

"Dow and DuPont both have strong positions in different parts of the agriculture inputs market, but each needs additional capabilities to compete effectively," James Collins, head of DuPont's agriculture division, told a Senate panel last month.