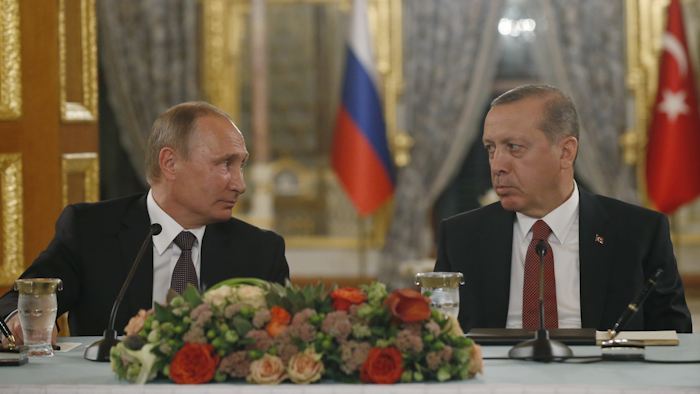 ISTANBUL (AP) — Turkey and Russia on Monday signed a deal to build a gas pipeline from Russia as the two countries pressed ahead with efforts to normalize ties.
Russian President Vladimir Putin and Turkish President Recep Tayyip Erdogan watched as their countries' energy ministers sealed an intergovernmental agreement for the "Turkish Stream" project that would bring gas from Russia to Turkey. It would then be distributed to European Union nations.
The project, which had previously been suspended amid tensions between the two countries, was signed on the sidelines of the World Energy Congress.
In other steps aimed at restoring ties, Putin announced that Russia had agreed to a natural gas discount to Turkey and would resume importing fruit, vegetables and other agricultural goods from the country. The two countries would intensify defense contacts and also look into cooperation in space technologies. Russia is building Turkey's first nuclear power plant, and Erdogan said the sides agreed to accelerate the project.
"I am convinced that the process of normalization of our ties will continue rapidly," Erdogan told reporters during a joint news conference. "Our relations will (improve) in many fields, be it in defense industry, political, economic, trade, tourism or culture."
"We will make up for lost time in the coming days," Erdogan said.
Putin had first suggested the Turkish Stream project to carry gas beneath the Black Sea into Turkey in 2014, when a pipeline project to Bulgaria fell through amid EU countries' opposition.
It was Erdogan and Putin's third meeting since June, when the Turkish leader apologized to Russia for shooting down a Russian plane at the Syrian border. The incident had seriously damaged ties, with Russia responding by deploying long-range air defense missiles at its air base in Syria, and imposing an array of economic sanctions on Turkey.
Serious differences remain on Syria. While Moscow has backed Syrian President Bashar Assad throughout the nation's civil war and further bolstered that support by launching an air campaign last September, Turkey has pushed for Assad's removal and helped his foes.
Putin said Turkey and Russia were in agreement over the need to deliver aid to Aleppo in Syria but were at odds over the "security" of the delivery routes.
"Both Russia and Turkey support the end of the bloodshed in Syria," Putin said. "We share the same view that every effort should be made for humanitarian aid to be delivered to Aleppo."
"The only issue is the safety of the delivery of humanitarian aid," Putin added.
He said Russia had shared with the United States its recommendation that Syrian and opposition forces withdraw from the Castello road, the main route for aid to be delivered to Aleppo, so that humanitarian convoys would not be fired upon. "However the American side does not want to do that, or is not capable of doing that," he added.
Erdogan said he and the Russian leader had discussed Turkish-backed Syrian opposition forces' efforts to recapture areas near the Turkish border from the Islamic State group and said they had assessed possible cooperation with Russia.
Earlier, in his speech to the congress, Putin voiced support to Erdogan over the country's July 15 failed coup, saying he was happy that the country had "retained control."
"We are very glad that Turkey is recovering and wish it success," Putin said.