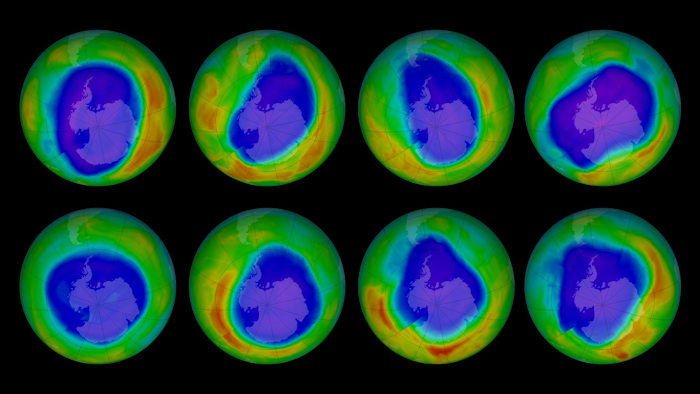 A nearly three-decade-old ban on chlorofluorocarbons is gradually healing the hole in the ozone layer above Antarctica, according to a newly published study.

The analysis, published in the journal Science, found that the Antarctic ozone hole shrunk by more than 4 million square kilometers — roughly half the area of the contiguous United States — between its peak level in 2000 and readings last year.

Researchers attributed the findings to a drop in atmospheric chlorine that originated from chlorofluorocarbons, which were virtually banned worldwide in 1987 under the Montreal Protocol.

CFCs were formerly used in dry cleaning, refrigeration and aerosols, but they were also blamed for the ozone hole, which opens in the Antarctic spring and summer as chlorine reacts with sunlight and clouds formed at cold atmospheric temperatures.
 
"Aren't we amazing humans, that we did something that created a situation that we decided collectively, as a world, 'Let's get rid of these molecules?'" asked MIT atmospheric chemist and lead author Susan Soloman. "We got rid of them, and now we're seeing the planet respond."

The readings also, for the first time, found fluctuations in the decline due to varying volcanic activity. In 2015, the ozone hole reached a record size despite the drop in chlorine, researchers said, due to increased clouds caused by small particles from the Chilean volcano Calbuco.

Scientists, however, said that the broader pattern remained promising and lauded the "first fingerprints of healing." Solomon said that absent significant volcanic eruptions, the hole should continue to shrink and close entirely by the middle of the century.