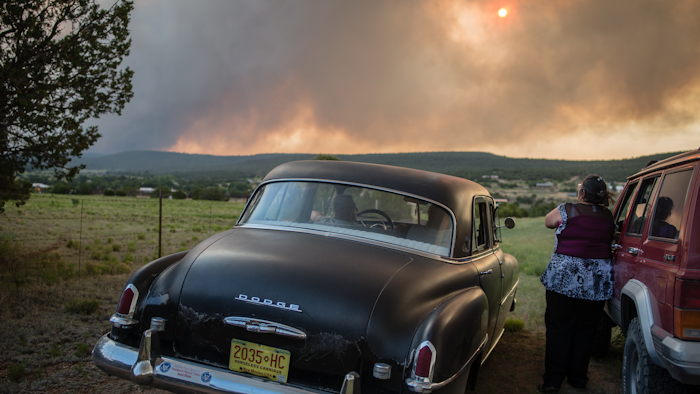 GOLETA, Calif. (AP) — A fleet of aircraft dropped water and retardant to combat a wind-driven wildfire burning out of control Thursday in rugged coastal canyons west of Santa Barbara, where hundreds of campers, a handful of rural homes and an oil processing facility evacuated as the flames crept toward the ocean.
Strong gusts and rising temperatures across the dry Western U.S. also worsened wildfires in other states. A blaze in central New Mexico exploded to nearly 19 square miles and forced residents to flee at least 50 homes after sending up a towering plume of smoke that blanketed the state's largest city in a thick haze. Some structures have burned, but it's not clear whether they were homes.
In eastern Arizona, a small community was evacuated and residents of five others were told to prepare to leave after a wind-whipped wildfire charred nearly 5 square miles within hours Wednesday. Blazes also had threatened homes in Nevada and Utah.
The weather was expected to pose problems for crews in those states and California, where flames that ignited Wednesday afternoon chewed through nearly 2 square miles of dry brush.
Winds gusting to nearly 40 mph pushed the fire through canyons and close to a few ranch homes and an ExxonMobil crude oil processing facility that employs about 250 workers. No structures were damaged, and no injuries were reported.
ExxonMobil evacuated non-essential employees from the Las Flores Canyon site, and those that remained through the night helped protect it against the flames, company spokesman Todd Spitler said.
By morning, the fire posed little risk to the facility with a cleared buffer zone, Santa Barbara County fire Capt. Dave Zaniboni said.
"It's in good shape now," he said. "There was a lot of fire around it during the night, but the structure protection was effective."
Crews working in steep terrain took advantage of calmer winds Thursday to build lines around the blaze, Zaniboni said. The air attack included several helicopters and up to eight air tankers, including DC-10s, which are capable of holding more than 11,000 gallons of retardant.
But officials warned that calm conditions would not last, with gusty winds in the forecast.
Hundreds of people were forced from campgrounds in Los Padres National Forest as the fire raced through dry brush along hillsides. Its cause was under investigation.
Zaniboni said he didn't have a specific number of people or residences affected. Also closed was Refugio State Beach, which was off-limits for months last year following a major oil spill.
Some campers taking advantage of the outdoors decided to leave before campgrounds were evacuated.
"It's completely smoked out up there, so we decided to take the kids and get out of there," Ted Bayard told Santa Barbara station KEYT-TV from his driver's seat as his family left popular El Capitan State Beach.
About 50 horses were evacuated from a ranch and taken to a shelter that was set up at the county fairgrounds. State Route 101 was briefly closed in both directions near the city of Goleta.