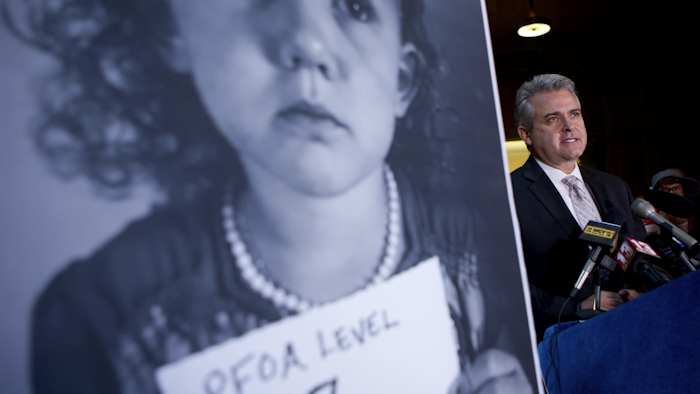 ALBANY, N.Y. (AP) — A group of Hoosick Falls residents including several children, holding signs listing their blood levels of a toxic chemical, gathered outside the state Senate chamber on Wednesday to demand a legislative hearing on the state's handling of contamination of their drinking water.
"We need federal and state hearings to figure out what went wrong so that you, communities of New York and beyond, don't have to endure the same thing we have had to," said Rob Allen, a Hoosick Falls father of three children who teaches music at a high school.
The rally was organized by Republican Assemblyman Steve McLaughlin, who represents the factory village near the Vermont border. McLaughlin has been demanding hearings for months on the water contamination, saying it's unacceptable that the state Department of Health knew the village water supply was contaminated with perfluorooctanoic acid for 18 months before it warned residents not to drink it.
"Clearly, the people of Hoosick Falls were wronged," McLaughlin said.
Perfluorooctanoic acid, or PFOA, was used for decades in the manufacture of Teflon and other nonstick coatings before it was phased out amid health concerns. The chemical has been linked to cancer and other illnesses.
About two dozen residents met with an aide to Democratic Gov. Andrew Cuomo after the rally. Cuomo aide Jim Malatras said he answered questions and gave an update on environmental cleanup and health monitoring actions underway but said it's up to the Legislature to decide if a hearing is warranted.
The Assembly dropped plans for hearings on the issue in April.
The Department of Environmental Conservation has signed agreements with two companies to pay for the investigation and cleanup of PFOA in public and private wells in the Rensselaer County village. Water filtration systems were installed this spring to remove PFOA as a temporary solution while the agency studies the feasibility of an alternative water supply.
About 2,500 residents have had their blood tested for PFOA this spring. The Department of Health has been mailing residents results over the last two weeks and said the average level was 23.5 micrograms per liter, compared with 2 to 6 micrograms in the general population. The agency said the blood level only tells about exposure, not the likelihood of health effects.
Village resident Loreen Hackett said her blood level is 272. She displayed photos of her grandchildren, ages 4 and 6, listing their blood levels of 117 and 142.
"My grandson has just been diagnosed autistic, my granddaughter has immune problems, my daughter has bone issues, my son's diabetes levels have skyrocketed in the last few years," Hackett said.
She said she believes the illnesses and numerous cancer cases in the village are the result of PFOA exposure.
State health officials expect to release the results of a study of cancer rates in the village within a few months.