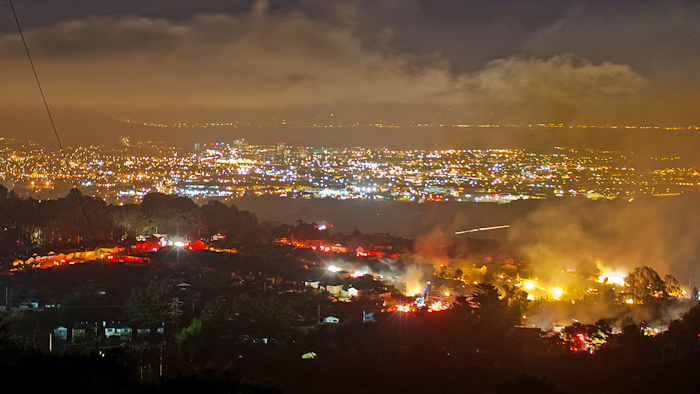 SAN FRANCISCO (AP) — One of the country's largest utility companies is set to face a jury in a criminal trial accusing it of obstructing investigators in the wake of a deadly pipeline explosion in the San Francisco Bay Area.
The September 2010 blast of a Pacific Gas & Electric Co. natural gas pipeline in San Bruno sent a giant plume of fire into the air, killing eight people and destroying 38 homes. During the investigation that followed, prosecutors say the San Francisco-based utility misled federal officials about how it was identifying high risk pipelines. Opening statements in the trial are scheduled to start Thursday.
The standard the company used violated pipeline safety regulations and led to a failure to classify the San Brunopipeline and other similar pipelines as high risk and properly assess them, prosecutors said in a 2014 indictment. The company is also facing charges that it violated pipeline safety laws by ignoring shoddy record keeping and failing to identify threats to its larger natural gas pipelines.
PG&E faces a $562 million fine if convicted. The company has pleaded not guilty and said its employees did not intentionally violate pipeline safety laws or obstruct an investigation.
"Regardless of the next legal steps, we want our customers to know we are focused on the future and on re-earning their trust by leading in safety, reliability, affordability and clean energy," the company said in a statement. "We've made unprecedented progress, and we're committed to maintaining this focus."
Investigators have blamed the 2010 blast in part on poor record-keeping at PG&E that they say was based on incomplete and inaccurate pipeline information. Company records, for example, indicated the pipe that ran through San Bruno was seamless. But a laboratory examination later showed that the pipe was constructed with seam-welds that failed during the accident, the National Transportation Safety Board determined.
California regulators fined the company $1.6 billion for the blast last year.
PG&E's attorneys fought to block any reference to the San Bruno blast from the trial. U.S. District Court Judge Thelton Henderson did not grant that request, although he barred prosecutors from showing jurors the segment of the pipeline that exploded and saying how many people died and how many homes were destroyed.
Henderson also excluded the NTSB's conclusions about the blast, saying jurors might wrongly substitute the NTSB's findings about PG&E's alleged regulatory violations for their own.