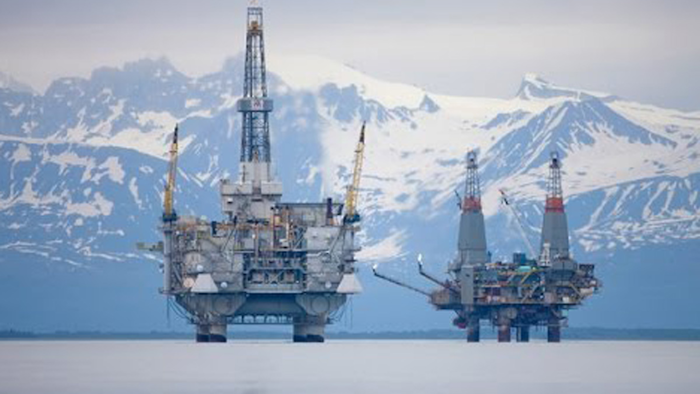 KENAI, Alaska (AP) — A Houston-based company that has been exploring oil and gas resources in the Cook Inlet area says it plans to leave the state because of low oil prices.
A spokesman for Apache Corporation said in an email the company would retain its Alaska assets but wouldn't seek renewal of the leases when they expire at the end of this year.
"Due to the current downturn, Apache has had to significantly scale back operations and spending," spokesman Castlen Kennedy said. "We recently reduced our spending plans for 2016 by 60 percent from 2015 levels and are focusing our limited dollars on specific international opportunities and strategic testing in North America."
Apache's general manager for Alaska, John Hendrix, informed the state Legislature of the company's decision Thursday.
Speaker of the Alaska House of Representatives Mike Chenault, R-Nikiski, told reporters that the company had been pushed out of the state by the price of oil.
"With oil prices the way they are, they don't really have much choice," Chenault said. "They can't keep investing money without a short term investment."
Chenault said the company's move will likely have an impact on the local economy.
"It could be just about anyone, all the way down to the restaurant down the street that's providing food (to the workers)," Chenault said. "Each time one of these smaller companies goes away, it affects everyone."
Apache Corporation, which has assets in other parts of the U.S. and Canada, had been engaged in exploratory projects north of Nikiski since 2010. During that time, the company experienced multiple delays and also considered other potential projects, such as extending the North Road.
In its annual report to the Securities and Exchanges Commission, the company called 2015 "a transitional year for Apache." It planned to counter the impacts of low oil prices by reducing activity and cutting overhead and operating costs, according to the report.
Sen. Cathy Giessel, R-Anchorage, said in a statement she was disappointed the company was shutting down its Alaska operations.
"My hope is that we, as a state, can set the right environment and conditions for our private economy to weather the economic downturn," Giessel said.