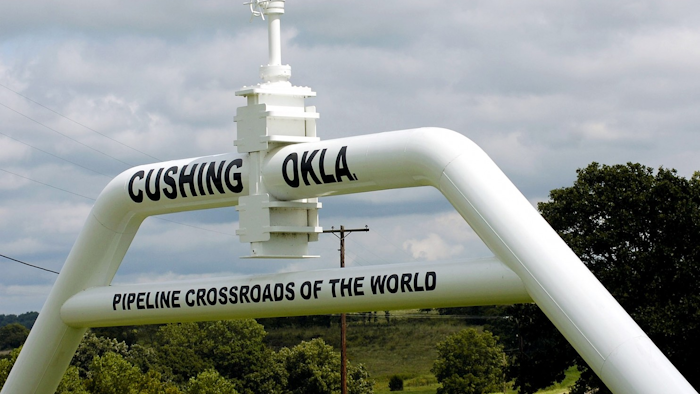 If it wasn't for the oil industry, you likely wouldn't hear about Cushing unless you were road-tripping through Oklahoma. But as it turns out, what happens in this city of just 7,800 people sends ripples through the market for one of the world's most important commodities.
It all comes down to how much oil is being stored in Cushing, according to an analyst at OilPrice.com. Although it's not the only factor impacting oil prices, Cushing's influence is undeniable because it is the pricing point for the trade of West Texas Intermediate (WTI) oil prices, the main benchmark for oil used in the U.S. While Brent is considered the global benchmark for oil prices, WTI and Brent have been trading at roughly the same price for the last few years. And both Brent and WTI have a consistently negative correlation with Cushing: the more oil sitting in Cushing, the lower oil prices.
Here's a look at how it shakes out, by the numbers.
3 billion = Barrels of WTI oil futures contracts traded weekly.
$100 = The average price for a barrel of oil for the first seven months of 2014.
$46 = The price for a barrel of oil by January 2015. Between July of 2014 and the beginning of 2015, oil inventories rose at Cushing, contributing to the crash in oil prices.
$60 = The price for a barrel of oil between mid-April and mid-June 2015. During that price rally, oil inventories in Cushing fell. The similar situation unfolded in late August when prices jumped to nearly $50 per barrel. But as Cushing's storage has risen since then, oil prices have fallen to near $30.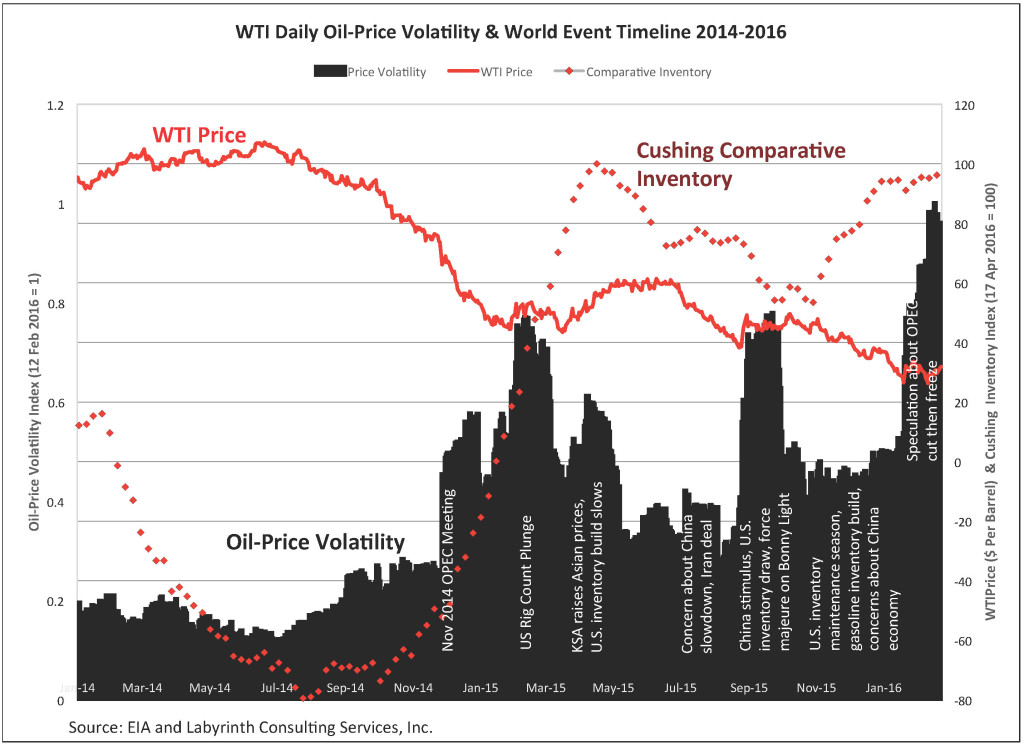 500,000 = Barrels per week added in Cushing since the oil export ban was lifted in December.
64 million = Barrels of oil currently being stored in Cushing, according to CNN Money. That represents nearly 90 percent of the city's storage capacity.
3 to 5 million = Barrels in Cushing's inventory that would need to be removed for the price of WTI to increase by $10 to $15 dollars. If stockpiles continue to increase, however, it could pressure oil prices down further.
About $34 = The average trading price for WTI this week.