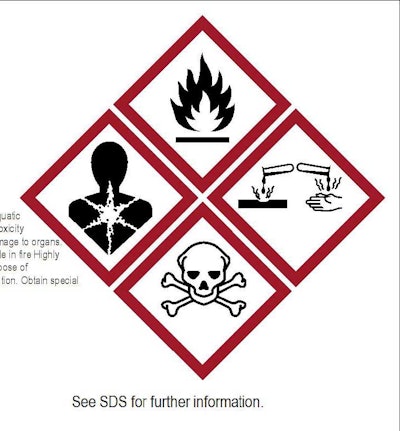 In the chemical industry, safety is of the utmost importance. The Occupational Safety & Health Administration (OSHA) estimates that over 43 million employees in the United States could be exposed to hazardous chemicals. Implementing appropriate work practices and exposure guidelines can reduce health and safety risks. This involves creating accurate and secure labels for chemical materials, allowing workers to quickly and easily understand information about the hazards they are exposed to.
OSHA has made modifications to the Hazard Communication Standard (HCS) final rule to adopt the Globally Harmonized System of Classification and Labeling of Chemicals (GHS) in effort to improve the health and safety of employees working  with hazardous chemicals. As of June 1, 2015, all chemical manufacturers, importers, and employers must ensure all labels and safety data sheets (SDSs) comply with the modified provisions.
READ MORE: Learn the Surprising Truth About Industrial Aftersales and Services
The next GHS deadline is December 1, 2015, when distributors may no longer ship products labeled by manufacturers under the old system.
OSHA recently released the top 10 most frequently cited violations of OSHA standards in fiscal 2014 for all companies and industries, and Standard 19101200 Hazard Communication (HazCom) came in second with 6,156 violations. This is due to the fact that HazCom violations occur across many industries, and are easy for OSHA inspectors to observe, in relation to hazardous materials not having labels or SDSs.
HazCom-related citations for all industries in 2014 amounted to penalties of $3,296,163. OSHA's penalty policy states that the maximum penalty OSHA can assess for each serious violation is $7,000 and $70,000 for a repeated or willful violation.
With the next compliance date rapidly approaching, now is the time to move from learning about the regulation to taking action and implementing key components to meet the requirements.
Take these four steps to prepare your business for GHS compliance:
Learn about what has changed in the final rule
The major changes to the HCS include:
Labels: Chemical manufacturers and importers must provide a label that includes a harmonized signal word, hazard statement, and pictogram for each hazard class and category
Safety Data Sheets: Formerly known as Material Safety Data Sheets (MSDSs), these are used to provide information about hazards used in workplace chemical management  and to obtain advice on safety precautions.These must now have a specified 16-section format, as defined in this OSHA brief.
Hazard Classification: The definitions of hazard now include specific criteria for classification of health and physical hazards, as well as classification of mixtures. This will ensure that evaluations of hazardous effects are consistent across manufacturers, and that labels and SDSs are more accurate as a result.
Train your employees
The deadline to train current employees on the new label elements and SDS formats was December 1, 2013.1 However, as new employees are hired, it is mandatory to train them in the same way, as well as provide training to all employees whenever a new health or physical hazard is introduced into the workplace. Training should focus on how to interpret new pictograms, how to read updated labels, and what the various hazard statements, signal words, and precautionary statements mean. Communicating these hazards is essential to meeting the requirements of OSHA and ensuring workplace safety.
Replace current MSDSs with SDSs
For GHS Compliance, ensure that the SDSs you receive include new hazard information. An SDS must include the 16 required sections in the specified order, in a uniform format with headings, section numbers, and associated information.1  Under the new HCS, section two will now be the hazard(s) identification segment, including required label elements which incorporate pictograms and signal words, while section three will include the information/composition on ingredients. There are new physical, environmental, and health classifications that must be incorporated into section two of the SDS.
Choose the right labeling software to label chemicals with required GHS elements
Chemical labels under GHS must include the following:
Hazard Statement: This describes the nature of the product's hazard with a phrase assigned to the hazard class
Pictogram: This is a graphic symbol that is intended to visually convey specific hazard information, and must include a red border (or black border for workplace labels only)
Signal Word: Must use either "Danger" (severe) or "Warning" (less severe)
Product Identifier: This should be identical to the product identifier on the SDS
Supplier Identification: The name, telephone number, and address of the supplier or manufacturer must be listed
Precautionary Statement: This describes recommended measures to reduce or prevent adverse effects resulting from exposure
Additionally, companies using National Fire Protection Association (NFPA) and Hazardous Materials Identification System (HMIS) rating systems for labeling workplace containers must numerically reverse the rating system under the new rule. Under GHS, the new ratings will be 1 (severe hazard) to 5 (minimal hazard).1  Employers using this method of workplace labeling must ensure employees are trained and fully aware of the hazards of the chemicals used.
When choosing label design software, be sure that the application allows for database integration, so you can easily design and print GHS compliant labels using information from a text file or database to include standardized data elements that meet GHS requirements. Having a label approval module that allows you to approve label designs using electronic signatures will help you meet industry mandates that require label security and traceability.
Below is a fictitious example of a GHS-compliant chemical label. The label contains a hazard statement, pictograms, signal word, product identifier, supplier identification, and precautionary statement.
Figure 1: GHS-Compliant Chemical Label Example
OSHA estimates that the modified HCS will prevent 43 fatalities and 585 injuries and illnesses annually, valued at an estimated $250 million per year in savings related to the reduction of occupational risks.1
On top of this, it is expected that $475.2 million will be saved due to productivity improvements for health and safety managers and logistics personnel, $32.2 million during periodic updating of SDSs and labels, and $285.3 million from simplified hazard communication training.1  In addition to health and safety benefits, chemical manufacturers will need to produce fewer SDSs in future years, while employers save time providing training to new employees as required by the existing OSHA HCS through the improved consistency of the labels and SDSs.
Implementing the final rule will also
Improve the quality and consistency of hazard information in the workplace, making it safer for workers to do their jobs and easier for employers to stay competitive;
Enhance worker comprehension of hazards, especially for low and limited-literacy workers, reduce confusion in the workplace, facilitate safety training, and result in safer handling and use of chemicals;
Provide workers quicker and more efficient access to information on the safety data sheets;
Result in cost savings to American businesses of more than $475 million in productivity improvements, fewer safety data sheet and label updates and simpler new hazard communication training: and
Reduce trade barriers by harmonizing with systems around the world.
Nick Recht is the Enterprise Product Manager at TEKLYNX Americas.
---