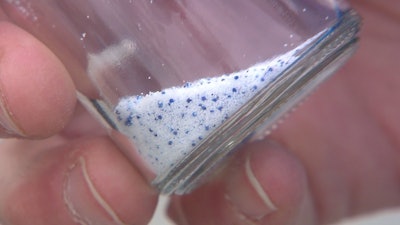 In the UK, MPs from the Parliamentary Environmental Audit Committee say they will pursue a ban on microplastics used in everyday household products from toothpaste to shower gels and cosmetics.
"Trillions of tiny pieces of plastic are accumulating in the world's oceans, lakes and estuaries," said the committee's chairwoman, Mary Creagh, adding that they harm marine life and enter the food chain. "A single shower can result in 100,000 plastic particles entering the ocean," she said. "Cosmetic companies' voluntary approach to phasing out plastic microbeads simply won't wash. We need a full legal ban." The MPs also called for a complete worldwide ban.
Researchers have found that micro-sized plastics shedding from worn tires and fleece jackets are also proving a menace — but are less easy to be remediated through regulatory action.
The BBC is reporting that although microplastics form only 0.01% to 4.1% of the total plastic waste dumped into the seas, researchers have been especially concerned about microplastics because of the problem of microbial life at the bottom of the food chain, such as plankton, ingesting the plastic. As many as 280 species have been reported to have confused the plastic for food — and with estimates ranging from 15-51 trillion microplastic spheres now said by researchers to have accumulated in the environment, the problem is attracting significant attention from lawmakers around the world.
Bans around the world
There has been a voluntary effort by manufacturers to remove microbead plastics — especially in cosmetics and toothpastes. In the US, the Microbead-Free Waters Act of 2015 bans microbeads as of July 2017, in what are defined as "rinse off cosmetics" — and nine US states have enacted restrictive legislation on rinse-off cosmetics. Canada added them to a list of toxic substances last month under the Canadian Environmental Protection Act '— and there have been federal and provincial efforts in Canada to effect bans.
The Netherlands is also progressing to a ban that will take effect by the end of 2016.
What are they and where are they used?
As Wikipedia notes, "Microbeads are manufactured solid plastic particles of less than five millimeters in their largest dimension. They are most frequently made of polyethylene but can be of other petrochemical plastics such as polypropylene and polystyrene. and commercially available in particle sizes from 10 micrometers (0.00039 in) to 1 millimeter (0.039 in).Microbeads are added as an exfoliating agent to cosmetics and personal care products, such as soap, facial scrub and toothpastes.They may be added to over-the-counter drugs."
The role of biotechnology in solving the problem
One of the drivers in substitution efforts has been finding alternative materials with equal performance in the product — that do not constitute a long-term marine hazard.
With the exception of the state of California and five counties in New York, all bans on plastic microbeads allow for the substitution of biodegradable alternatives.
TerraVerdae Bioworks
Last year we reported that TerraVerdae BioWorks had reached scale-up of its proprietary technology to a commercial scale. The company produces biodegradable PHA bioplastics from waste-derived methanol.
"Our C1 based bioprocess is very adaptable to a variety of high performance biomaterials," said CEO William Bardosh. "The first of our products using this technology, biodegradable microspheres, are a natural substitute for plastic microbeads commonly used in personal care and cosmetic products like toothpaste and body scrubs. We are also developing a range of additional performance products for the $200 billion global bioproducts market, including biodegradable 3D printing filaments, specialty films and performance coatings."
TerraVerdae uses "green" methanol from, forestry, municipal, agricultural or industrial waste sources, instead of petroleum or sugar-based sources to produce polyhydroxyalkanoate (PHA), a biobased and biodegradable bioplastic that is the starting material for a range of advanced biomaterials utilized in a variety of applications and markets.
"Our C1 based bioprocess represents a paradigm shift in economics and sustainability compared to traditional food or sugar-based bioprocesses," said William Bardosh, CEO and founder of TerraVerdae BioWorks. "Successfully reaching this milestone is an important step to our ultimate goal of full commercial production of next generation industrial materials that are sustainable and engineered for performance applications." The project optimized the process robustness and demonstrated the industrial scale economics of integrated methanol and PHA production to achieve productivity and competitiveness for commercial deployment.
Mango Materials
Mango Materials utilizes a patent-protected process to manufacture bioplastic from inexpensive sources of methane gas. The San Francisco Bay Area-based company has proven the ability to produce the bioplastic poly-hydroxyalkanoate (PHA), which can be economically and functionally competitive with oil-based plastics.
Right now, Mango Materials is focused on producing larger volumes of commercial samples – focused on the technology's potential to produce biodegradable plastics for use as microparticles. These plastics, commonly used as abrasives and exfoliates, have recently come under scrutiny for their persistence in the environment.
Mango Materials notes that its PHA is not only biodegradable, it is non-GMO, biobased, sequesters methane. The company projects that it can be produced for around $1.10 per pound based on current feedstock prices.
The Bottom Line
The fouling of the seas by microplastics is a serious threat to the food chain if critters continue to ingest microparticles and interrupt their role in natural marine sustainability — and researchers have widely concluded that this is the case. Bans work — but are easier to effect if there are ready substitutes.
Two questions remain — will biodegradable alternatives work? Depends on how fast they degrade, doesn't it? Secondly, how fast can providers of alternatives such as biodegradable PHA going to reach scale? If there's a significant time-lag between outright bans and the arrival of alternatives, product companies will reformulate without alternatives, and if consumers become accustomed — as in days past — to life without microbeads, it could leave solution providers scrambling to find other markets in agriculture, 3D printing and the like.
It's a matter of timing in both cases, and the race for answers is on.
Jim Lane is the editor of Biofuels Digest.