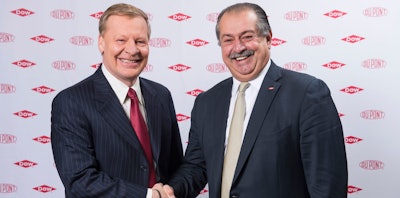 When the $68.6 billion Dow-DuPont merger is complete later this year, the historical deal won't just be the largest merger in the chemicals industry — it will be one of the most valuable mergers in history.
It has also contributed to a frenzy of mergers and acquisition activity in the industry. Earlier this year, ChemChina agreed to buy Syngenta in a $43 billion deal. And in another sign of the eat-or-be-eaten climate of the industry, this year Monsanto attempted and then ditched its own attempt at an acquisition, and has now become the target of a possible takeover by Bayer and BASF.
What's behind the flurry of M&A activity?
Mike Shannon, Global Chair of Chemicals & Performance Technologies at KPMG, says he and his colleagues have been forecasting amped up M&As in the industry for about three years. But it took a few major shifts in the market for the predictions to come true.
Here are the factors Shannon says are driving chemical companies to match up, and the bright side in all of it for chemical industry workers.
It's Just a Matter of Time
According to Shannon, increased M&As happen on a cycle.
"If we looked back at 20 years ago to the chemical industry, we'd probably be having the same conversation," Shannon says.
Over the last few years, Shannon says there has been a lot of "pent up M&A demand" in chemicals. But part of what has helped turned the tide is more executive confidence in how the global economic recovery is going and more certainty about the regulatory environment.
The Ripple Effect
The Dow-DuPont tie-up has been one of the major catalysts that has helped push the industries once again in the direction of M&As.
According to Shannon, the rumors about big companies like Monsanto and BASF closing in on deals are about "reactionary positioning transactions" that help the major players boost their competitive edge.
The Shale Boom
Thanks to dropping oil and natural gas prices, many chemical companies have seen their feedstock prices plummet, which can put them on more stable footing financially. Although prices for many chemicals have also fallen and companies have seen their margins squeezed, Shannon says chemical executives are still finding themselves more comfortable with their balance sheets and liquidity — at least in terms of exploring M&A deals.
The shale bonanza has also made the U.S. a more cost-effective location to do business.
"A lot of European crackers are running on crude oil," Shannon says. "They are going to be challenged when prices go up. But if you look at cheap shale gas and a sustainable supply of molecules at a low cost for the sector, for the long-term, the Middle East is the only other area that rivals the U.S. And the U.S. may have the advantage of often being closer to end markets."
Activist Investors
It's no secret that activist investors have played a major role in instigating changes throughout the industry — including the Dow-DuPont deal. Embarking on a merger can help companies quickly create growth, which makes them an attractive option for increasing shareholder value, while also streamlining company portfolios and trimming the company's fat, so to speak.
"Whether you agree or disagree that investors are good, they are at least spurring the dialogue that is creating these transactions," Shannon says.
The Future — And What M&As Mean For Jobs
Shannon doesn't expect to see a downturn in chemical industry courtships any time soon.
"I think you're going to see a lot more portfolio shuffling over the next 18 to 24 months," Shannon says.
And while major mergers can create immediate job losses due to cuts in overlapping positions, Shannon echoes other analysts who've predicted that the overall jobs picture will be positive for the industry.
"I think the unprecedented level of investment that's occurring to take advantage of shale gas is going to make the U.S. chemicals industry a very sustainable sector for employment," Shannon says. "I think you're going to see more manufacturing coming onshore in the U.S. to take advantage of the molecules and converted into plastics, intermediates and more."
In fact, Shannon is so confident in the jobs picture, he has his own stake in its success.
"My son is in college for chemical engineering," he says. "So I'm personally betting on it."