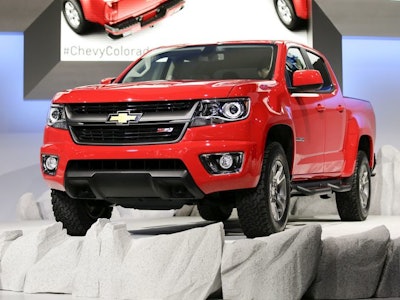 Motor Trend magazine announced the winners of its Car of the Year and Truck of the Year awards and this year both honors go to GM's Chevrolet brand.
The Chevrolet Camaro won Car of the Year impressing critics with its lighter design and smaller stance. Other finalists for the Motor Trend Car of the Year were the Audi TT, BMW 7 Series, Honda Civic, Mazda MX-5 Miata, Mercedes-Benz GT S and Toyota Mirai.
For Truck of the Year, Motor Trend named the Chevrolet Colorado as this year's pick. While the industry seems focused more on full-size pickups like Ford's F-series and Fiat Chrysler's Ram line, GM revived it's temporarily discontinued model with a complete overhaul. GM sold 70,291 units of the Colorado through the first 10 months of 2015 and 24,841 units of the Colorado's sister vehicle
the GMC Canyon.
Other Motor Trend Truck of the Year finalists were the Chevrolet Silverado 1500, GMC Canyon, GMC Sierra 1500, Nissan Titan XD and Toyota Tacoma.
Additionally, the magazine named the Volvo XC90 as its SUV of the Year for its overhauled chassis, new design and peppy yet efficient powertrain options. Other finalists for SUV of the Year were the Honda Pilot, Lincoln
MKX, Mercedes-Benz GLE-Class and Nissan Murano.